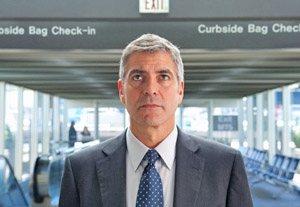 According to our panel of critics, the awards-season competition among actors is not all that exciting—especially, several critics assert, in the leading-actor category. "It's a quiet year for actors," says Sean Smith, Los Angeles bureau chief of Entertainment Weekly. "The big studios are no longer making films for Oscars or even making dramas—and those were traditionally the purviews of male actors." While studios have been producing the high-action, special-effects flicks, those prize-winning dramas have become the meat and potatoes of low-budget movies. "There's been a shift to independent films, made for no money, which feature unconventional protagonists, such as minorities or women. In recent years, the female categories have been far more interesting," adds Smith.
Still, there are several fine male performances, say Smith and the four other critics who weigh in on this year's outstanding male actors. Those critics are Pete Hammond, contributing film critic for Back Stage and Box Office Magazine and columnist for The Envelope, The Awards Insider for the Los Angeles Times; Kevin Lally, executive editor, Film Journal International; Kristopher Tapley, owner and editor-in-chief, InContention.com; and Anne Thompson of IndieWire's Thompson on Hollywood blog.
The Usual Suspects
Not every movie had been seen by all the critics, but the actors most cited as front-runners are George Clooney ("Up in the Air"), Daniel Day-Lewis ("Nine"), Morgan Freeman ("Invictus"), Jeremy Renner ("The Hurt Locker"), Jeff Bridges ("Crazy Heart"), and Colin Firth ("A Single Man").
Though only Hammond believes Clooney is the front-runner, all the critics deeply admire Clooney's performance as an emotionally disconnected yet charming corporate downsizer who makes a living firing people. Lally calls it "the perfect role for him." Smith says, "It's a mature, well-modulated performance. He plays off his charm but doesn't rely on it. He's got range. It's a subtle performance. It's adult and anchored and quietly masterful." Adds Tapley, "He's brave to have tackled it. This is not his best work, but it's his wisest performance. He comes from a real, truthful place, and that will be recognized." Clooney makes it look deceptively easy, notes Thompson.
None of the critics had yet seen "Nine," but they give Day-Lewis high marks based on his track record. "He's always fabulous, and he always gets nominated every time he makes a movie," says Smith. Notes Tapley, "He's an impeccable actor, and he'll nail it." If he can sing, that's an added point in his favor, insist the critics.
Another film not seen by many critics is "Invictus," starring Freeman as Nelson Mandela. But Freeman's roster of fine performances, coupled with the built-in excitement surrounding a biopic about Mandela, makes the actor a shoo-in at nomination time, especially if he captures the charismatic figure, the critics concur. It may be "the role he was born to play," says Tapley. Others call a nomination a "no-brainer."
The reviewers also talk about Matt Damon in "Invictus," as rugby player Francois Pienaar, who led South Africa to victory in the sport's 1995 World Cup. The event resonated on many levels—not least Mandela's support of the hitherto losing team, seen as representing all of South Africa and not simply the Caucasian minority. Though the reviewers suspect Damon is more likely to be nominated as a supporting actor in "Invictus," they say his role may be as weighty as Freeman's, if not weightier. "It's hard to know who has the more dominant performance," says Smith. "You'd think it would be Freeman as Mandela. But Damon's character has the dramatic arc, while Mandela stays sort of static. This is pure speculation. I haven't seen it. But Matt does consistently good work, he hasn't been nominated in a while, he's well-liked, he's had a clean career and hasn't made a mess of his life."
Damon might also be nominated for his delightful performance as a corporate whistleblower who begins to see himself as a secret agent in "The Informant!," say several reviewers. "He deserves to be considered," says Tapley. "He could be like Brad Pitt or George Clooney—larger than life—but somehow he didn't take that route. He's a wonderful actor, entirely capable of carrying a movie on his back, whether it's a comedy, drama, or action movie. He's ubiquitous. In 'The Informant!' he gained weight, wore prosthetics, and yet was able to bring a performance out from beneath all of that."
Renner, as a bomb-disposal expert in "The Hurt Locker," is also a serious contender. "It's a showcase, volatile performance," says Lally. Smith admires the "interior" elements of the acting. Thompson calls it "a great breakthrough performance of a man addicted to fear."
Like Renner, Firth is praised for his breakthrough acting in "A Single Man," though he certainly has been admired by movie aficionados for his solid performances over the years, the critics point out. His depiction of a tortured homosexual in the early 1960s whose lover has been killed in a car accident is "extraordinary," says Thompson. "It's a moving dramatic performance." Hammond also thinks it's a notable piece of acting. Tapley admires the subtlety of the interpretation, adding Firth has "been around for a while but not gotten his due."
Other actors receiving kudos from our critics include Michael Stuhlbarg in "A Serious Man," Viggo Mortensen in "The Road," Michael Sheen in "The Damned United," Sharlto Copley in "District 9," Hal Holbrook in "That Evening Sun," and Bridges in "Crazy Heart." Holbrook and Bridges are viewed as especially noteworthy. Thompson calls Bridges' depiction of an alcoholic, failed singer-guitarist, "a great performance by an actor at the top of his form." Tapley says, "It's some of his best work to date. It's career-topping, career-defining acting in the vein of 'Tender Mercies' or 'Nobody's Fool.' It's a slow burn—not a ton of conflict until the third act. But you're living in the world with this guy. He's nailed it. He's a national treasure, and he's due."
Holbrook is also credited with a top-notch performance as an irascible older man who escapes a nursing home and returns to his homestead, refusing to leave and fiercely battling the new tenants. The performance of the 84-year-old actor has the added resonance of a valedictory, say the critics.
Lally and Smith regret James Gandolfini is not eligible for his performance in "Where the Wild Things Are." His face is digitized, yet his voice evokes a multileveled character, they say. Smith calls it a "real and alive and complicated performance." Lally says it's "complex and soulful."
Support This
In the supporting-actor category, all the critics agree Christoph Waltz as the vilest of Nazis in Quentin Tarantino's "Inglourious Basterds" is the one to beat. "He steals the film," says Lally. "He's sure-fire." Smith adds, "It's one hell of a performance: riveting, menacing, and charming. He makes asking for a glass of milk feel dangerous." Tapley weighs in, "He takes evil delight to the tension he brings to a sequence. He blows everyone away as the ultimate Nazi. Also, it makes for a good story, the way Quentin Tarantino plucked him from obscurity and put him on the map." Thompson says, "He may have been cast because he can speak all the languages involved and he's not a big star, but he ran away with that character."
Several reviewers point out that the supporting-actor contest is a good spot for breakout talents. But it's equally good for veteran actors who may never have gotten major awards. Christopher Plummer in "The Last Station" falls into the latter category, says Hammond. "He is about to turn 80 and has a great role playing Leo Tolstoy in his final days. He has the best shot to upset Waltz." Tapley also thinks there's traction in "an old-timer getting his due." But more important, Tapley continues, "he commands the screen when he's on and haunts the movie when he's not onscreen."
Stanley Tucci is another front-runner. The reviewers admire him for his portrayal of Julia Child's loving husband in "Julie & Julia" and look forward to his turn as the murderous villain in "The Lovely Bones," which most of the critics had not yet seen. "In 'Julie & Julia,' his performance is so delightful and charming, and his chemistry with Meryl is superb," says Smith. "It's the best match all year. And in 'The Lovely Bones,' he plays a killer, a character that's just the opposite. If he's really good and the movie takes off, he'll get it for that." Tapley points out that Tucci has previously worked well with Streep in "The Devil Wears Prada." "This is the second time he's gone toe to toe with Meryl Streep," Tapley says. "He's able to share the screen with a legend and nail it. But sight unseen, I have a vibe that he'll get it for 'The Lovely Bones.' " Thompson, however, is not sure which performance he'll be tapped for. "Tucci is always good, and his peers recognize him as a great character actor. He's very good in 'The Lovely Bones,' and in 'Julie & Julia,' he plays this loving supportive, sexy husband. It's a great portrait of a marriage, and he plays the sweetest man in the world and true to that period. The two movies could help him get one nomination."
Vying against each other in the coming-of-age movie "An Education" are Alfred Molina and Peter Sarsgaard, playing, respectively, the buffoonish father and the slimy but charming boyfriend of a young innocent (Carey Mulligan). "Peter Sarsgaard has been working hard and well for years," says Tapley. "He should have been nominated for 'Kinsey' and 'Shattered Glass.' He's the solid, go-to guy. He got the movie made. But Alfred Molina is my favorite from the movie. He has this warmth as the patriarch. You understand where he's coming from, even if you don't agree with him." Thompson also loves Molina as "a dimwitted father doing things for the wrong reasons, yet he still loves his daughter. Sarsgaard also has an especially interesting role. He's so charming and seductive and is an American actor doing an English accent well. But the character is not altogether admirable. He's taking advantage of a young girl and at the same time he loves her. There's a lot to do there."
Other actors the critics name for fine supporting performances include Anthony Mackie and Brian Geraghty in "The Hurt Locker," Alec Baldwin in "It's Complicated," Woody Harrelson in "The Messenger," and Jim Broadbent in "The Young Victoria."