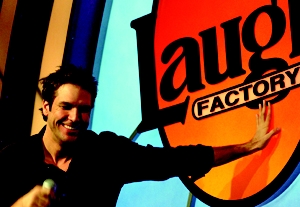 The standup comedy playbook has changed. New media have created more ways to get your act to the masses, and the prevalence of reality TV means fewer scripted series, so success performing live is less likely to earn you a trip to the sitcom big leagues. But audiences still crave talented comedians and, in these crazy economic and political times, need a good laugh as much as ever, so opportunities are out there—if you're good.
"The cool thing about standup is it's entirely a talentocracy," says Steve Rosenfield, founding director of New York's
American Comedy Institute
, a school for aspiring comedians. "It really comes down to getting undeniably good, night after night, in front of different kinds of audiences, whether it's a late Saturday night or an early Tuesday show, because when a comedian achieves that, they're going to be seen."
Open-mike nights are the inevitable starting point for standups, but Rosenfield doesn't think they're entirely useful when it comes to developing new material, because they don't attract a diverse audience. "It's usually other comics, not a regular audience," he explains, "and while you're up there, they're half listening to you, half trying to figure out what they're going to be doing. There's a tendency for material that does well at open mikes to be bluer and jokier, but regular audiences want to hear something where there's a sense of genuineness about it, something that's a reflection of who they really are." Rosenfield recalls students who honed their acts on the subway or at Grand Central Terminal, away from industry audiences.
Eddie Brill, a comedian and booker for the "Late Show With David Letterman," touts the usefulness of open mikes when working on new material but adds, "You don't want to be stuck there for the rest of your life." He often finds new talent through managers, agents, friends, and comedians he works with on the road. "You can't teach standup comedy," Brill says. "The only way to get great is stage time. The other part is vulnerability. Richard Pryor is considered the greatest because he showed his vulnerability. We all have this bravado, but when it comes down to it, we're all kind of nerds."
Another piece of advice, as obvious as it may seem, is to be on your best behavior with the people around you. "Usually it's not the club that you're going to get the first gig from," Rosenfield says. "Typically that first employer is another comedian who may be further down the road than you but thinks you're talented and needs somebody to work with him."
Funny on YouTube
"Be very persistent," says Jamie Masada, owner and founder of Los Angeles' legendary Laugh Factory. "With new media," he adds, comedians "have to be able to expose themselves." Masada points out that the casting director of a TV show he's putting together recommended a comedian found on YouTube. "You're seeing fewer industry people in clubs; they're going to the Internet."
In booking his club, Masada is conscious of the public's desire for headliners but tries to sprinkle in still-sprouting talent: "I'll usually put two or three comedians that they haven't heard of in front of a Tim Allen or a Kevin Nealon. My obligation in comedy clubs, especially showcases, is to find the next Chris Rock, the next Adam Sandler, because once they go into film, they don't do standup anymore."
"When you're a comedy club in the two major markets, New York City and Los Angeles, you really have to think about your constituents: the talent scouts and the people that just came in to laugh," says Al Martin, booker and owner of the Big Apple's Broadway Comedy Club and New York Comedy Club. So he says part of his mission is to deliver potential sitcom talent: "Is it a housewife that has a crazy household? Is it a blue-collar guy talking about his blue-collar life? I look for people talking about unusual characters in their acts. And of course, you want to remember you have an every-night audience, so it's a balancing act."
Other considerations are the time of the show—the audience at an 11 p.m. show is likely to be younger and edgier than one at 9 p.m.—and the time of year. "In May and June, we have late-night shows for after prom, and the same comedian that might make a 30-year-old laugh because they're talking about relationships might not make a 17-year-old laugh," explains Martin. Location matters too. He says his Broadway Comedy Club, located in midtown Manhattan, draws an audience of 60 percent out-of-towners ("They might not get things that a New Yorker would"), while the audience at Gramercy Park's New York Comedy Club is 90 percent locals ("I book that with more of a New York edge, people with a lot of attitude in their acts").
Martin has cut back on live auditions in recent years—partially due to the prevalence of reality TV. Previously, he says, "comics would be funny, they'd graduate to the top of their class, go out to L.A. for a sitcom, and bring potential writers with them. Then the next batch would move up. Now, with sitcoms being expensive to produce and reality series being cheaper, a lot of the top echelon of comedians have not left New York. They're bumping their heads against the ceiling. Two or three classes have not graduated."
He cautions young comedians about exaggerating their credentials, since the Internet expedites reference-checking, and about sending links to video clips that aren't polished. "All you have to do is put someone's name in and you'll see where they're performing and at what level," Martin says. "I can also, when and if I do open up these unsolicited emails, tell in as little as 30 seconds whether the person is funny or not."
Funny at Festivals
At comedy festivals, the programming is often more diverse and riskier, depending on the event's size and scope. "We're looking for people who have real, true voices, who have a sense of realness to them, a sense of polish to them," says Robbie Praw, manager of programming for the comedy festival Just for Laughs, in Montreal, which runs July 7–18 this year. Comedians who are part of its New Faces showcase have been honing their craft for five to seven years.
"In the comedy world, there's been a lot of emphasis on YouTube," Praw says. "We like to bring it back to the live feeling, connecting the audience directly with the comedian." Not that new media can't play a role in shaping or promoting a comic. "You're not just a comedian when you're on stage anymore," says Praw, who talks about comedy with contagious enthusiasm. "It is a true identity, and you live it every day through every tweet, every online video." As such, a lot of today's star comedians aren't just funny, he says; they also have an über-cool public image, like Ricky Gervais or Russell Brand.
Even though New York and Los Angeles are the country's media capitals, Praw points out that "the comedy business is not strictly a New York/L.A. business. It's not really where to gauge if you're going to be famous and successful. The true money is when you can transcend not only the States but the world." He cites the edgy Louis C.K. as a comedian who draws crowds in the U.S. and internationally, in places like Canada, England, Scotland, and Australia.
Praw urges comedians to stay true to their own voice, even if it's on the risqué side. "There's a place for any type of humor," he says, "whether you're naturally the guy in the green room who's the dirtiest or the one who's really a family guy."
Lawrin Goulston Salazar, executive director of the Los Angeles Comedy Festival, says the majority of acts for the biannual event (May and November) come via application and the festival's year-round Spotlight Series (for live acts) and Screening Series (for films and videos). A different jury of six or seven selects the participants for each festival; November's festival will be the eighth. The submission period began May 24—the day after Festival No. 7 wrapped—and ends Sept. 8 for live performers and Sept. 17 for films and screenplays.
"What's exciting about the festival is I have no clue as to what's happening in November," Salazar says. "I'm sure it will include some improv groups that are sitting around tonight just getting started or someone that's at a desktop struggling with how to end a screenplay."
Like Praw, Salazar has noticed the emergence of hybrid acts combining music and comedy. "For some reason, we had a
wealth of superb music and variety acts," she says. "Even in film, we're seeing a few more musical shorts, not just music videos but something that tells a story." In general, she adds, films and videos seem to be popping up in increasing numbers, thanks to the easier availability of filmmaking equipment: "There was a film in the [last] festival where the budget was $20. He only had to buy some potato chips. Another film, their big expense was parking."
The goal of the festival, according to Salazar, isn't to showcase current headliners; it's to bring in audiences and industry types to find the comedy stars of tomorrow: "They're not interested in seeing Jerry Seinfeld. They're interested in the next Jerry Seinfeld here."
All Kinds of Funny
Salazar maintains close ties with the industry; it was at the urging of the industry that the festival, which began as an annual event devoted to sketch comedy, morphed into the all-encompassing biannual affair it is today. But she doesn't program it to appeal specifically to industry tastes. "What's funny is a very personal thing," she says. "What our jury members think is funny is what flies, but there's all kinds of funny."
Rooftop Comedy, an Internet enterprise that records comedians at clubs and uploads excerpts to its site, also produces Colorado's Aspen Rooftop Comedy Festival in conjunction with the city's Wheeler Opera House. The festival, which this year runs June 9–13, sprang up in 2008 after HBO moved its U.S. Comedy Arts Festival—an Aspen staple for more than 20 years—to Las Vegas.
"Because we work with partner comedy clubs all over the country and internationally, we get to see comedy at a very local level and not just New York, L.A., and Chicago," says Annie O'Rourke, director of comedy productions for Rooftop, which counts clubs in Minneapolis; Cincinnati; Tampa, Fla.; and Australia as partners. She adds that such access to diversity comes in handy when programming the festival. "We're seeing more and more comics that are constantly evolving their act," she notes. "As the comedy landscape is changing and as the media landscape is changing, there are a lot more ways to interact with your audience if you're just constantly thinking and writing."
O'Rourke appreciates "when a comic is professional, and in a personal way. I've received too many emails where our email address is just copied. Polish up your email, be professional, be persistent but not pushy, and let's not forget, saying something funny that will make a booker laugh can never hurt." But the most crucial component of success is developing a voice and focusing on what distinguishes you from the rest of the pack. "Any given night," she says, "when you're standing on stage with a bunch of comics, you want to be the one that felt really different."
That means paying attention not only to what you're doing but to what's going on around you in the comedy sphere. "It's best not to be in your own void of comedy," says O'Rourke, who notes that fellow comedians often make top-drawer talent scouts. "You can learn from each other, and I think there's a lot of support to be had. It's a close-knit community. I love seeing comics that aren't threatened by new up-and-comers but want to help nurture talent the way they were nurtured."