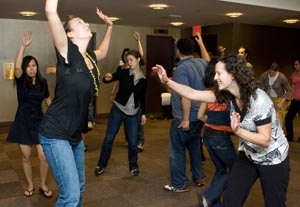 The outreach programs of New York's Stella Adler Studio of Acting have a twofold purpose, according to artistic director Tom Oppenheim: "to address educational and economic inequity and bring free training to those who wouldn't have it otherwise." The school's social conscience, he explained, emerges from a family tradition dating back to the Yiddish theater and the Group Theatre.
As they have for decades, acting schools and theaters continue to reach out to low-income, at-risk youth. The programs range from free or subsidized theater tickets, coupled with study guides, actor talkbacks, and backstage tours, to teaching artists who spend weeks or months in a school, introducing the students to acting and playwriting. In some cases, teachers are taught how to incorporate theater into the curriculum; in others, youngsters in housing projects, shelters, and community centers learn to create a show from scratch.
Cutbacks in arts education increase the need for theater outreach programs, say arts advocates, even as the economy forces the programs themselves to cut services. While outreach is good for public relations and perhaps even fundraising, the institutions remain committed to it because it's the right thing to do, they say. Some champion art for art's sake; others talk about the utilitarian role that art may play in a child's life, boosting grades, school attendance, and self-esteem. Further, they say, the programs help build future audiences for theater and may suggest a career path for talented kids who might otherwise fall through the cracks.
Time, Money, and Mindset
Limited funds heads the list of challenges—even when the economy is good. A related issue is the lack of continuity: A trip to see a play or a semester with a teaching artist is not enough to integrate theater into school life. While some teachers are enthusiastic participants, many view arts education as break time, and others find it intrusive, taking hours away from subjects like math and science that students must master in order to score high on standardized tests.
"There is so much attention given to these high-stakes tests, it's hard for them to find time for the arts," said Greg McCaslin, education director of New York's Roundabout Theatre Company, which has had an extensive outreach program for many years. "So much of classroom time is now about preparing for tests. Nobody says what we're doing is frivolous, but when it comes to allocating time for it, they don't have it."
Arts supporters are sympathetic, understanding that teachers' careers are on the line. "If test scores go down, the schools lose money," said Elizabeth Tobias, educational program director of the Will Geer Theatricum Botanicum in Topanga, Calif. "Also, many teachers lack confidence to deal with the arts. It's been so completely removed from their training." The arts are equally alien to many parents, say educators. They view theater as a fun afterschool activity without any real value, and it's a challenge to get them to see its worth.
Another problem is kids who have never been to a play, let alone performed in one. For youngsters who don't trust adults or each other, the concept of collaboration is foreign, and it's difficult for them to work in an ensemble, said Evelyn Rudie, co–artistic director of California's Santa Monica Playhouse, whose 40-year-old outreach program is one of the country's oldest.
Amy Fiore, director of New York's Tada! Youth Theater, now celebrating its 25th anniversary, echoed that sentiment. Many of the kids she sees come from single-parent homes and are not familiar with the idea of two adults working collaboratively. To change that perception, Tada! is committed to sending teaching artists to schools in pairs, despite the added expense.
Another repeated comment is that for many kids this is the first time they're being asked for their opinions and the first time their ideas have been valued. "Eighty percent live below the poverty line and come from forbidding environments that have never informed them that they have any rights," said Oppenheim. Added Vanessa Mizzone, director of education at the Actors' Gang in Los Angeles, "The challenge is teaching students that what they bring to the table is enough, as opposed to the idea that they have to entertain us." 
The 'Spark of Possibility'
Whatever the roadblocks, many people believe that outreach works, perhaps no one more than Bill Bartlett, who founded the Imagine Project in New York in 1992. A large percentage of the kids in his program live in shelters; their lives are bleak and chaotic, he said, and often they move from one shelter to another, creating an even greater obstacle to continuity. But despite the odds, Bartlett and his team have been able to pull together what he calls the crowning achievement of his program: "Imagine," a show created by high-risk youngsters based on their lives, which will be presented as part of this year's New York International Fringe Festival.
"All you have to do is look at these kids' faces," said Bartlett. "Talk to their parents; talk to their teachers. We had kids who never spoke and suddenly they're singing."
Program heads use the word empowered to describe kids involved in theater outreach programs. Oppenheim recalls "one young homeless man who went by the name Peaches. A year later he became Darnell, got an apartment, and is now attending community college."
John Jack Rodgers, executive director of the Stella Adler Los Angeles Studio of Acting, mentions "the quiet, shy girl who wore thick glasses and always kept her head down. Every time she was asked to get up and read a poem she had written, she said no, and all the other kids laughed. Finally she did get up and read it in a whisper. But it was a beautiful poem about her mom, who worked as a maid, leaving early every day and coming back late. Everyone in the class went nuts, applauding and cheering. The girl was transformed. The next time we asked for someone to read a poem, her hand shot up. It was also interesting to see how it transformed the other students, who were now reading their own poetry and no longer making fun of her."
"If as a result of these programs the kids have been given their voice, knowing they have the right to speak and that what they have to say has value, then it's been a success," said Tobias. Theater outreach, she added, creates a "spark of possibility" in kids who may be directionless. One such youngster was "very goth" and saw a production of "Twelfth Night" at Theatricum Botanicum. "I saw another possibility," Tobias recalled. "It was the turning point in my life."
According to Gary Ferrell, managing director of the Norris Center for Performing Arts in Palos Verdes Peninsula, Calif., the mark of his program's success is its continued existence. Added Rudie, "I've had lots of kids come back to me years later and say their experience in this program changed their lives. Others are now bringing their own children to our shows."