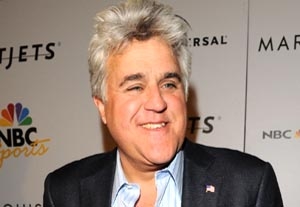 "I think viewers are going to be happy to see this lineup of great new shows that will truly fit the NBC legacy of quality, culturally defining shows."
That was Angela Bromstad, president of NBC Entertainment, unveiling the television network's 2009-10 lineup to the media last May. At the heart of that schedule was Jay Leno, who days later hosted his final episode of "The Tonight Show." In a move NBC touted as a coup—and many working in scripted television decried as a harbinger of the end times—Leno agreed to stay with the network and set up shop five nights a week in the 10 p.m. time slot that had traditionally been home to some of TV's best-known dramas. NBC planned to do nothing short of change the way broadcast networks program their schedules, a tradition-rooted process built on viewing habits formed over generations.
Oops.
Come December, Bromstad told BusinessWeek that NBC would produce 18 pilots for 2010-11—seven more than it had the previous season. The rumor mill commenced grinding. On Jan. 10, Jeff Gaspin, Bromstad's boss, announced to the Television Critics Association that the grand experiment had failed. Leno would return to 11:35 p.m., his show—whose low ratings had prompted a revolt among local affiliate stations—shortened to half an hour. "The Tonight Show," now hosted by Conan O'Brien, would slide back to 12:05 a.m., to be followed at 1:05 a.m. by "Late Night With Jimmy Fallon."
But the network failed to sell the plan to all involved. O'Brien issued a statement declaring he had no intention of moving "Tonight," then mounted an open rebellion, turning his on-air platform into a verbal shooting gallery and NBC executives into his targets. The future of O'Brien, Leno, and late-night network television was turned upside down. But one thing became clear: The status quo was on its way back at 10 p.m.
"The word always was that you would know Leno's show was in trouble the moment you saw NBC order more shows than they usually do in development," said Craig Tomashoff, Los Angeles–based executive editor for TV Guide. "Then Angela Bromstad said they ordered 18 shows, and it was pretty clear something was up."
Somebody's Happy
Tomashoff called NBC's post–"Leno Show" schedule, which relies heavily on new reality series and reruns, "a patchwork." The real recommitment to prime time, he said, will come in the fall. Among the 18 pilots ordered—10 dramas and eight comedies—are a reboot of "The Rockford Files" from producer David E. Kelley, the procedural "Chase" from Jerry Bruckheimer, and "Love Bites," a romantic comedy from former "Sex and the City" producer Cindy Chupack.
"If these shows that come on are good, people will find them," Tomashoff said. "I don't think that they'll be in first place a year from now, but they may have found a way to get back on track, which is to get big-name producers to do shows that sound interesting."
That is good news for those who found work scarcer after Leno gobbled up five hours of prime time. Mike Hodge, president of the Screen Actors Guild's New York division, is glad to see the change. "With five hours of prime time opening up, I'm really excited," Hodge said. "NBC is picking up pilots again, and that means more jobs for actors."
That sentiment was echoed by Holter Graham, New York president of the American Federation of Television and Radio Artists. "The move of Leno back from whence he came—if that is what the ham-fisted network eventually stumbles toward—should open up an hour per weeknight that is more than likely still going to be union work," said Graham, whose union covers reality hosts as well as actors. "So that's a nice five hours we didn't think we'd have per week of drama or comedy."
Broken Brand?
If that sounds like barely concealed glee coming from the performers' unions, it probably is. According to Eric Deggans, television critic for the St. Petersburg Times, SAG and AFTRA members may be among the only folks in NBC's creative food chain happy with the current chaos. "All the creative people who used to do dramas at 10 p.m. are really enjoying this," Deggans said. "They told NBC they were making a mistake, and they've been proven right."
Now NBC is tasked with drawing back viewers who have grown accustomed to flipping past the peacock logo in the corner of their screens. This season the network had essentially given up on contending in the 10 p.m. time slot, where "The Jay Leno Show" performed so poorly that it occasionally lost to cable series such as FX's "Sons of Anarchy" in the key 18–49 ratings demographic. Leno was never expected to draw the same number of viewers as "Law & Order: SVU," but low production costs were expected to compensate for low viewership. If NBC plans to reinvest in scripted comedies and dramas, it can't afford for those shows to draw Leno-like ratings for long.
So once again, NBC will be forced to reinvent its brand. That won't be easy, especially in a year when cable giant Comcast's bid to purchase the network's parent company will come under scrutiny from investors, journalists, and government regulators. Then there's the business of a very public feud with a high-profile employee (O'Brien) and the prospect of having to approach advertisers for next fall after having uprooted the current season's prime-time schedule. Deggans is among those who believe the task ahead is daunting.
"It's just been so sad to see the network that had 'Friends' and had 'Frasier' and had 'ER' and 'Mad About You' and so many great shows—and, I thought, a great brand—just totally disintegrate," he said. "Younger viewers have no idea that NBC once stood for quality, once was the best network. It's really unfortunate."