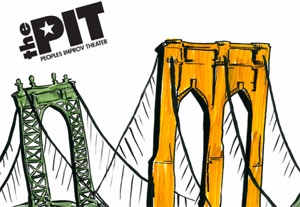 When the producers of SketchFest NYC announced in March that their annual sketch comedy festival would be taking a break in 2012, promising to return "bigger and better than ever" in 2013, New York's comedy community was left wondering what would fill the void. We didn't have long to wait.

The Peoples Improv Theater has announced that it is accepting submissions for the first annual New York City Sketch Festival, which will take place Oct. 11-14 at the PIT on East 24th Street in Manhattan. The lineup and schedule will be announced in the fall.

"SketchFest NYC not happening this year did open up a window for us in a way," said Toby Knops, associate artistic director for the PIT. "There is a market for sketch comedy in New York."

For the past few Junes, SketchFest has occupied the Upright Citizens Brigade Theatre in Chelsea. Knops and the PIT purposely scheduled their festival for the fall, so that the two events can co-exist in the future. "We don't want to conflict with SketchFest in any way," Knops said.

"The main reason we do SketchFest NYC, and the reason we started it, was to foster a sketch comedy community in New York that wasn't just thriving but also really, really good," said Alexander Zalben, executive producer of SketchFest NYC and a member of sketch group Elephant Larry. "If there are enough sketch groups to have 14 festivals a year, I would be a happy clam." Zalben also teaches classes at the PIT but said, "It's a completely separate event from SketchFest NYC, and I'm not involved in any way, other than I'm looking forward to checking it out."

Organizers at the PIT say that, like SketchFest, their festival has been created not only to celebrate the sketch comedy community in New York but also to foster relationships between writers and performers from all over the world. Knops estimates that between 30 and 40 groups from New York, the U.S., and abroad will be invited to spend a long weekend performing, watching, and learning sketch comedy with one another.

"We are open to new teams and old teams, people who have been around for a long time, people who have been around for a short time," Knops said. "We're mostly interested in performers who are pushing the boundaries of what people consider sketch comedy to be, and also who are doing interesting work that is specific to them."

A selection committee will evaluate all submissions to determine the final lineup for the fest. The committee currently is composed of Knops; Keith Huang, the PIT's artistic director; Chris Aurilio, the PIT's director of classes; and Jen Curran, a member of the sketch group Harvard Sailing Team, who also teaches comedy writing and sketch acting at the PIT. Other committee members will be added but were not confirmed at press time.

Along with performances, other programming -- such as educational workshops, panel discussions, and master classes -- is planned.

"From an actor's perspective, I think working on crafts like sketch and improv are incredibly important," Knops said, "because it builds your skills as an artist so that you're not completely reliant on other people in order to showcase yourself and to create interesting work. People look at it as comedy and think, 'I have to be funny,' and that is part of it. But it's also partly about being an independent artist and being able to see what you want to say, how you want to say it. Sketch and improv are very important skills for any performer."

The New York City Sketch Festival is part of a period of expansion for the PIT, which moved into its new space on East 24th Street in early 2011. The theater introduced its first annual New York City Improv Festival in March, which Knops promises will return in 2013. More sketch comedy classes have been added to the schedule this year, and the theater formed house sketch teams this spring.

Submissions for the first New York City Sketch Festival will be accepted until Aug. 15. A $25 submission fee is required for all entries. For more information, visit PITSketchfest.com.