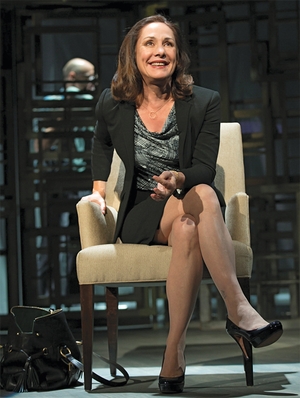 Broadway is doing a lot of shuffling lately. The critically adored "Peter and the Starcatcher" returns to its Off-Broadway roots with a planned opening at New World Stages later this year after ending its Broadway run on Jan. 20. American Repertory Theater's "Pippin" will become the first-ever Broadway revival of the musical when it lands at the Music Box Theatre in the spring. And on Jan. 10, "The Other Place" will open on the Main Stem, after a celebrated run in 2011 at MCC Theater.
"It's really rare when you get a second chance on a piece," said actor John Schiappa, who appeared in "The Other Place" at the Lucille Lortel and is in the Broadway cast. "Not only just to get to do it again within a short span of time and dig into it even deeper but to move a show…is very exciting for all kinds of reasons."
But what does a transfer mean for the actors? Could there be salary raises or cuts? Could they be replaced by a "star"? Are they considered differently during awards season? The answer is yes.
The minimum weekly salary on Broadway is $1,754, according to the Actors' Equity Association production contract. Under the contracts for Off-Broadway or League of Resident Theatres (LORT), actors are paid on a sliding scale—from $555 to $650 for Off-Broadway and $566 to $882 for LORT. These numbers do not include increment payments—additional salary for taking on another role, such as understudy or fight captain. These amounts also vary and do not exist in some agreements.
"Any actor can negotiate higher than minimum as directed in the contract but can never accept less than what's directed in the contract," said Maria Somma, spokesperson for Actors' Equity Association, when asked if actors moving from Broadway to Off-Broadway must take a pay cut. "If you got the ability to negotiate higher than the Off-Broadway minimum, you can do that and get it."
Actors who appeared in the regional or Off-Broadway run also must be offered a Broadway contract; otherwise the producer must pay them a four-week buyout at the Broadway minimum salary for LORT or a three-week buyout for Off-Broadway.
The producer also doesn't have to pay for a rehearsal period, if no rehearsal period is necessary, when a show moves to Broadway. For "The Other Place" Schiappa says there was a regular rehearsal period because two of the actors were new to the cast. However, "Who's Afraid of Virginia Woolf?," which moved to Broadway in the fall after productions at Steppenwolf and Arena Stage, went straight into technical rehearsal when the cast arrived in New York.
"I was really scared about coming back into rehearsal," Carrie Coon, who plays Honey, told Backstage in 2012. "I thought I would forget all the things I learned."
Off-Broadway and regional transfers also have a good track record when it comes to awards. Last season, all the Tony nominees for best play were transfers from Off-Broadway. "Pippin" is opening just in time to meet Tony consideration this year, but for awards like the Drama Desk, which honors both Broadway and Off-Broadway, shows like "Peter" and "The Other Place" might see different honors. The nominating committee typically only recognizes new elements in the latest production, according to the organization's president, Isa Goldberg.
However, moving to Broadway is exciting for actors, whether it's their first or fifth time on the Great White Way.
"Off-Broadway is really looking for the innovative, new voices of the American theater in a way that Broadway sometimes just can't afford to," Celia Keenan-Bolger, who starred in "Peter" on Broadway, at New York Theatre Workshop, and at La Jolla Playhouse, told Backstage last year. "When you move a show Off-Broadway to Broadway, I had some reservations because it was so special Off-Broadway.… And luckily, we were just with a bunch of people who made sure that it retained a lot of what made it so special downtown."