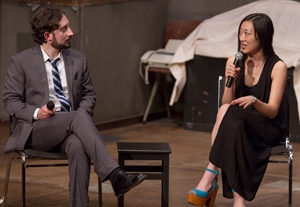 On the eve of new musical "
February House
" beginning previews at
The Public Theater
, critics and artists gathered there May 7 for a panel discussion that asked the question, "Is New York City still a home for artists?"
The evening began with an introduction to "February House," the musical recreation of a proto-artists' commune in pre-WWII Brooklyn that found Gypsy Rose Lee, Carson McCullers, and W.H. Auden, among others, sharing living quarters. Bookwriter Seth Bockley and composer Gabriel Kahane took the unusual living arrangement (memorably recreated in Sherill Tippins' 2005 non-fiction "February House") as a jumping off point to exploring the themes of coming of age as an artist in the city, finding one's artistic family in the city, and living in the city as a retreat from other places.
Afterward, Damian Woetzel, director of Arts Programs for the Aspen Institute, led a panel of New York Magazine critics in a discussion of New York City as the cultural capital of the world.  The critics—including Kurt Andersen, Justin Davidson, and Amy Larocca—were generally in agreement that NYC is indeed the cultural capital for those who make their living with the creation of art. "While the world has become increasingly fragmented, more of these fragments coalesce in New York City than any other place, and so there's more cross-pollination here," Davidson said.  Larocca, fashion critic at New York Magazine, declared that "New York City is the only place in America where we actually have fashion." 
The sole dissenter was visual art critic Jerry Saltz, who argued, "It's a myth that you have to be in New York to be part of the art scene.  It's just as possible to live an enriched artistic life in a number of cities around the globe, Los Angeles, Berlin, Istanbul, for example.  The only truth is that vampires need other vampires.  And artists are all vampires."
During a discussion among up-and-coming artists led by Director of the Public Forum Jeremy McCarter, experimental theater director and playwright Young Jean Lee confessed that she could not imagine having her career without the city, citing the rich support of the experimental theater community and the abundance of grants available for her work. Kahane agreed, saying, that he viewed the music community as the foremost reason for living in New York.  "I could probably leave New York City," he said, "if I could take all of the artists with me." Writer Emma Straub, author of the short story collection "Other People We Married" and the forthcoming novel "Laura Lamont's Life in Pictures," explained that from her perspective "I don't really think there is a choice; I don't really think people live in other places."