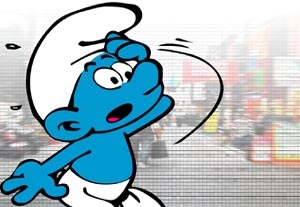 Sony Pictures Animation Inc. and Columbia Pictures Industries, Inc., are casting kids for "
The Smurfs
" feature film, which
reportedly will be a hybrid of live-action and animation
. The motion picture will be produced by Jordan Kerner ("Charlotte's Web") and directed by Raja Gosnell ("Scooby-Doo" and "Beverly Hills Chihuahua"). "The Smurfs" movie is currently in preproduction; shooting will between 2009-10, with an expected 2D and 3D release date of Dec. 17, 2010.
Seeking—
Sophie
: ages 8-10, a girl of great imagination and originality, though always appealing, she is often socially awkward and doesn't fit in with the other kids, she's smart and open, though she can be physically clumsy, when she discovers that the "doll" her father brought home from Belgium is actually a living, breathing Smurf, she takes "Clumsy" in as a member of the family and tries to get the household to embrace him and the rest of the Smurfs;
Sam
: 13-16 (to play 14-15), Sophie's brother, a good kid, but he's going through that phase where he can be difficult and withdrawn and retreat to his room to play video games, through his involvement in the Smurfs' quest to get home, he reconnects with his parents and sister.
Online audition videos are currently being accepted for these roles. To access script sides and submission instructions, visit
http://tinyurl.com/SmurfsMovieCasting
.