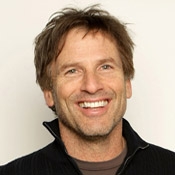 "Am I boring you?" asks writer-director Hart Bochner over the phone from his Los Angeles office. He's joking, I think, but he's rightly noticed that I've fallen silent. Not because I'm bored -- please, I'm talking to the actor whose Die Hard scoundrel Harry Ellis got him named Maxim's No. 2 movie sleazeball of all time -- but because I'm furiously scribbling notes, trying not to miss a single detail of the strange tale he's relating.
It starts with an isolated town of less than 1,800 residents, where the air hangs thick with decay. Over the years, drug dealers attracted by cheap housing have moved in, further ravaging the impoverished community. This desert valley borders a dry lakebed that has been mined for its supply of natural minerals. For more than a century, companies have used chemicals to extract the land's riches, leaving a toxic residue that threatens local soil and water. Mylar ropes stretch for miles across these ponds of sludge, and cannon blasts regularly ring out. Both are tactics to keep birds from sipping the fatal concoction.
Cannons? Poison mineral ponds? You'd think Bochner was making up this dystopian scene, but he's actually describing Trona, Calif., a town only three hours from Los Angeles and the unusual setting for his new romantic comedy Just Add Water. Bochner, who wrote and directed the film, sums it up as "a love story in hell." When Ray Tuckby, a good-hearted guy saddled with an agoraphobic wife and harassed daily by the local teen meth baron finds his life turned upside down, he decides to take matters into his own hands. Prodded by Merl, a newcomer who convinces him dreams can thrive even in bleak Trona, Ray goes after the town thugs -- and Nora, the checkout girl he's been pining for since grade school.
And pine he does. When Ray, played by Nip/Tuck's Dylan Walsh, makes a trip to the market early on, it takes no more than a second to realize that Nora (Tracy Middendorf) is his one bit of sunshine in a monotonous, resigned life. And vice versa. Against Trona's harshness, Ray and Nora share a bond that transcends the fluffy, cotton-candy love romantic comedies too often feed their audiences. In his first foray into feature writing, Bochner nails that delicious will-they-or-won't-they dance, weaving a delightful yarn in the most unlikely of settings. Lending more offbeat comedy to the tale are Danny DeVito as the optimistic Merl, Jonah Hill (Superbad) as Ray's awkward son, and Justin Long (Live Free or Die Hard) as a local teen misfit.
"I couldn't get this town out of my head," says Bochner, who first visited Trona while starring opposite Bridget Fonda in 1998 thriller Break Up. The residents in rows of ramshackle houses, surrounded by breathtaking rock spires and insidious chemical puddles, left him haunted. The Toronto native, who got his start in the 1977 drama Islands in the Stream, had already directed the college cult classic PCU and the Jon Lovitz comedy High School High, but he craved a project that better reflected his sensibilities. Trona provided it.
Exploring what Bochner calls the common man's "daily struggle for dignity" within a culture mired in consumption, Just Add Water is also a "fable about what we've done physically to this country and the planet." He wrote the script in a year then spent the next three securing financing. Nearly a decade after he first saw Trona, he returned for the film's 23-day shoot. It was worse than he remembered, says Bochner: "More decay, more deadness, more of what I'd been so moved and disturbed by before."
Many of Trona's residents opened up their homes for shooting and were hired to do background jobs. A 9-year-old boy named Matthew became an unofficial assistant director, manning a walkie-talkie and helping the crew navigate the desert landscape. Bochner's first A.D. goes back on occasion, taking the boy and his siblings on trips to Disneyland. "Others," writes Bochner in his production notes, "return just because."
"I don't know that it's going to do anything for the community," says Bochner, who sits on the board of the Environmental Media Association, a nonprofit group dedicated to raising environmental awareness within the industry. "But to me it's heartbreaking that we live in a country that suffers an embarrassment of wealth that's so top-loaded. That's the thing about a town like this: In the center of all this decay, you see all this toxicity, and it's surrounded by astounding beauty," he says, referring to the Trona Pinnacles, a bizarre natural architecture of rocklike towers that have been seen in films such as Star Trek V: The Final Frontier and Planet of the Apes. "While we may have made a tiny mark on the town and its people," says Bochner, "they clearly made a bigger imprint on us."
'Just Add Water' premiered in January at the Slamdance Film Festival and opens in Los Angeles theatres March 28. It is produced by Danny DeVito's independent studio Jersey Films.
Brooke O'Neill can be reached at brooke.oneill@backstage.com.