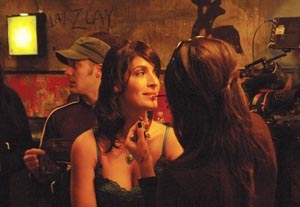 Recently Woody Allen told USA Today that he finds shooting in his beloved New York too expensive nowadays, which is partly why he has made several of his recent films in Europe. "I work on a very limited budget," he said. If he had the budget for "a bigger, more grand film…I wouldn't have a hard time."
A number of young New York filmmakers, TV producers, and new-media artists might beg to differ. These ambitious self-starters—many of them actors making the move into screenwriting, directing, and producing—manage to create small projects with modest budgets. They aren't dissuaded by the financial hazards of shooting in New York, even now, in the midst of a stubborn recession.
Niche Marketer
Swedish-born Casper Andreas has directed five full-length features in New York since 2003, all of them gay-themed. He wrote and starred in the first, a romantic comedy about actor-waiters with the pornlike title "Slutty Summer." But it wasn't his first screenplay. Andreas, who came to Manhattan to study at the Lee Strasberg Institute, originally wrote a much more elaborate, dramatic script, but he soon realized he needed something less ambitious his first time out. So he penned "Slutty Summer," set largely in one location (an outdoor restaurant) and initially budgeted at $10,000.
"It was just me and my roommate at the time," says Andreas (www.casperandreas.com), and they were going to split the costs. "It ended up costing more like $15,000 to shoot it. And luckily, my roommate, who became executive producer, kept writing checks for it."
Andreas created the lead character of Markus for himself, but as the start date approached, he pondered the idea of only directing the film and casting someone else. "And then, as an actor, I was like, 'You're crazy—of course you have to do it.' Because all these years I've spent trying to get acting work, and then I'm not going to give myself a role?"
Because "Slutty Summer" had a niche audience, Andreas believed it would be relatively easy to find a distributor. He'd seen a lot of gay films—some excellent, some pedestrian—and felt confident that his would be as good as or better than many that had found distribution. TLA Releasing ultimately agreed to distribute it on DVD, but Andreas also financed a theatrical release on his own (an arrangement he would use again). Though the four-city run was not especially lucrative, he was thrilled to get a review, albeit a mixed one, in The New York Times.
His subsequent films include two sequels of sorts: 2007's "A Four Letter Word," starring and co-scripted by "Slutty Summer" co-star Jesse Archer, and the recently completed "Violet Tendencies," in which Andreas returns as Markus. Last year he got around to filming that first screenplay, "Between Love and Goodbye," but didn't act in it. And he was hired to co-direct (with Fred M. Caruso) the as-yet-unreleased "The Big Gay Musical."
Andreas describes "Slutty Summer" as guerrilla-style filmmaking, but on later films he followed protocol and took advantage of city and state tax incentives. His budgets have increased over time, and "Violet Tendencies" features '80s sitcom star Mindy Cohn of "The Facts of Life." Andreas concedes that the recession has made some of his usual investors wary—he's still raising funds for "Violet," now in postproduction—but he's confident the money will materialize.
Persistence of Vision
Enrico Ciotti and Laura Adamo also came to New York (from Italy and Canada, respectively) for acting school. They became friends while studying at the Neighborhood Playhouse, but after finishing the program, they went their separate ways: Adamo produced a short dramatic film in Canada, and Ciotti worked on a documentary.
Then Adamo visited Ciotti in Rome, and they decided to collaborate on a screenplay. "I was supposed to be in Italy touring around," says Adamo. Instead, "I sat in an apartment in Rome and wrote a script."
Their effort was too big to be produced on a small budget, but they remained determined to find something workable. In New York they enlisted the aid of playwright Steven Tanenbaum, whose play "Mono" Ciotti had acted in. Ciotti and Adamo offered input—and enumerated their production restrictions—for Tanenbaum, who wrote what would become "Last Call" (www.lastcallthefilm.com), a drama about a group of theater folk meeting in a Lower Manhattan bar after the final performance of an Off-Off-Broadway play.
Tanenbaum, who would also direct the feature, wrote a part with Ciotti in mind, while Adamo wound up with one of the key female roles. But it was really an ensemble project and they were not the stars. This proved a blessing, as both of them played multiple offscreen roles too, from raising money to applying to film festivals to seeking distributors.
Both actors had considerable professional experience outside show business—Ciotti on Wall Street, Adamo in publishing—and it gave them needed credibility when it came to fundraising. A lawyer friend helped them draft an offering memorandum, and they circulated the script to potential investors. But it wasn't the screenplay that sold investors, says Adamo; it was the passion and tenacity she and Ciotti shared.
Their resilience was tested, however, when the film's first cut fared poorly with festival audiences. They could have cut their losses and written the project off as a noble experiment. But, keeping their investors in mind, they soldiered on, re-editing the film until it got a better audience reaction.
"Last Call" was shot in 2006 and 2007, before the economic downturn took hold. But the recession caught up with them later when they were searching for a distributor. "We tried the big studios, the big distribution channels," says Ciotti. "And right now, it's hard to even distribute big blockbuster films, let alone a small film like ours." Nevertheless, "Last Call" secured a distribution deal after it won the Award of Merit at San Diego's Indie Fest last year.
Ciotti and Adamo advise aspiring filmmakers not to sit and wait for the recession to end before embarking on a project. There's a lot of work to do before you can even worry about fundraising, so use this slow time to your advantage. "It's a minimum of a year before anything transpires," says Adamo. "So I'd say, 'Fuck, take the year!' Nothing's happening; you might as well be creating."
I Am a Camera
Some New York storytellers opt to work in a medium other than features. Actor Niko Varela recently directed and starred in a scripted series called "Real Reality," whose six hourlong episodes were shot for the Manhattan Neighborhood Network, a public-access TV station. The show follows a streetwise character named Victor (Varela) and his pals as they document their lives for a reality program. The unseen cameraman becomes a character in the story—sometimes a confidant, sometimes a nuisance.
"I wanted it shot in a way that I hadn't seen before," Varela says. "Of course, I had budget considerations that didn't allow me to do a lot of elaborate things. I wanted to do something that was very easy, where you could just set up, shoot, and leave." The show was filmed in friends' apartments and in public spaces throughout the city and in New Jersey.
Friends took some of the onscreen roles; other performers were solicited through Back Stage. But after a third of the script's 300 pages had been shot, the director-star had to start from scratch when he lost key actors and couldn't shoot around them.
Varela had no fantasies that the series would ever generate income. He was more interested in gaining experience and eliciting audience reaction, while his actors got a vehicle with which to showcase themselves. "While I was editing, I was cutting up pieces for people to use on their reels," says Varela. "I did that for a little more than half the cast."
All the episodes have now been shown on MNN. Building on what he learned from the series, Varela hopes next to direct a feature film. He's also considering enlisting an editor to recut "Real Reality" for distribution on the Internet.
Game On!
Samantha Mason turned to the Internet for her five-episode series, "A World of Her Pwn," which premiered on the gaming site The Escapist (www.escapistmagazine.com) last November. ("Pwn" is gamespeak for a humiliating defeat.) Mason played the semiautobiographical role of a game-site transcriber who is drawn into the worlds of various games.
The Escapist had sponsored a contest seeking original content, so Mason and director Douglas MacKrell conceived the idea and storyboarded the pilot one day in a New York diner. Their idea won, and the show soon went into production.
The site paid for the series on a per-episode basis, which was unnerving for Mason, who put her career as a classical actor largely on the back burner to work on the show. The production values fluctuated from episode to episode, Mason says, depending on "how my bank account was looking that month and how much time we had."
Each episode was supposed to be five- to eight-minutes long, though at times Mason and MacKrell went as long as 10. "Advertisers on the site don't want series to be too long," Mason says, "because they think people will turn it off and won't see their ads come on afterwards."
Whether the series will continue beyond the first five episodes is unsettled. But Mason has been approached to create a new series for another company. "It's really opened a new realm that I hadn't experimented in a lot before," she says.
Simultaneously wearing actor and producer hats proved challenging. Though she knew the scripts intimately, having participated in the development process, she would sometimes turn up at shoots realizing she hadn't fully memorized her lines.
Filming in New York certainly provided an embarrassment of talent and other riches. For one episode, Mason posted a call for background performers on "Ghostbusters" fan sites, seeking aficionados who owned their own costumes. Nine people showed up. In full regalia. "I thought, 'Only in New York City could you put out such a specific call and get such an overwhelming response,' " she says. "I had to turn people down—I had too many Ghostbusters!"
Many of the city's best filmmaking resources, it turns out, come without gigantic dollar signs attached. Perhaps the discouraged Woody Allen could learn something from New York's shoestring auteurs.