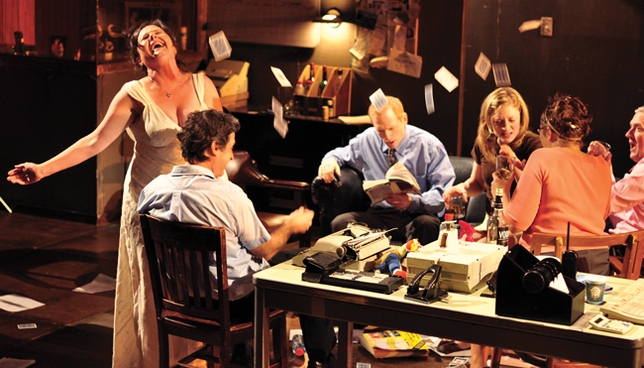 The book is always better than the movie, as they say. Taking a novel, an essay, or a historical record and translating it to a dramatic form requires harsh cutting and can alter the essence of the piece. How do you decide which scenes to include? How do you turn prose into dialogue? How do you honor the source material while still creating something new?
These are questions that writers have been dealing with for ages, but theater makers are reinventing the process of taking text to stage.
"It would be easy to call what we do adaptation, but it's something different," says Jennifer Schlueter, the co–artistic director of the For/Word Company. The troupe re-imagines historical documents for theater; her translation of Anne Morrow Lindbergh's writings, "North," plays Off-Broadway through Oct. 28. "It's something more like reanimating and rediscovering these works," she adds. "We're interested in getting beautiful words and the people who wrote them onstage in these vibrant ways."
Schlueter compares her work to Anne Bogart's and Charles Mee's "scavenger" mentality of taking excerpts and selections of literature and found texts and curating them for the stage. "The story in lots of ways is my story the way I understand Anne [Morrow Lindbergh] herself," she says, as the play is a fictional retelling of Lindbergh's life using text from her diaries and novels.
Another approach is to take one work and perform it straight through. That's what the Elevator Repair Service did with "Gatz," a six-hour-long theatrical event in which F. Scott Fitzgerald's "The Great Gatsby" is read from start to finish.
The Brooklyn-based theater company premiered the show at the Public Theatre in 2010 to great acclaim, and it has since played across the country and around the world. The show will make its Los Angeles debut at REDCAT on Nov. 29. "It was exciting to us not trying to make the book into a play but to actually somehow bring the experience of the book in as pure a form as we could to a live-theater experience," actor Scott Shepherd says.
However, the show isn't set in the roaring '20s like the novel. Instead, Shepherd and his director, John Collins, developed the concept of setting it in an office—after using an office space as a rehearsal room—and this approach adds a new lens to a familiar tale. "This mismatch is the thing that can really keep your imagination awake," he says. "There's always a gap between what you're seeing and what's being described."
Director Daniel Fish also wants to keep his actors' and audience's minds engaged with his staging of Jonathan Franzen's essay "House for Sale," which opens Off-Broadway on Oct. 24. Fish required his cast of five to memorize the entire essay, and he conducts the actors like an orchestra. He has assigned each performer a colored light, and when that light illuminates it's his or her time to speak.
"The concentration is what's most exhausting," says actor Michael Rudko. "Every second there's a possibility that you may have to jump in and play, so your body's always in that, your mind's always engaged."
Franzen's prose presents another challenge for the actors, as the writing style differs greatly from dialogue or monologues. Schlueter found the same problem when working with Lindbergh's text.
"It can be really dense, and we are just constantly on our guard against allowing things to settle like that," she says, adding that many revisions were made in the rehearsal room. "These are people who wrote beautiful sentences that they never intended to have people say out loud. But of course there's something awesome about getting to hear gorgeous language out loud."
Shepherd agrees. "It became clear very quickly that the power of that book is in the writing so completely that as soon as you start altering the way things are said or how much is said, it starts to fall apart a little bit," he says.
However, Schlueter advises actors not to pay so much attention to the language when they are working on scenes. "They have to be always thinking about what's happening right now on the stage," she says.
In the case of "House for Sale," the actors must focus on the language, as it "is the character," says actor Christina Rouner. The autobiographical essay follows Franzen as he returns to his hometown in Missouri to sell his childhood house after his mother passes away and, in turn, revisits memories.
"I think about it as if we're all doing a one-person show but we're doing it together," Lisa Joyce says. "There's one character, and we kind of embody different parts of it at different times."
"It sort of guarantees at every moment a constant sharing of the consciousness," Rob Campbell says.
While the five actors in "House for Sale" have one "character" to play, Shepherd straddles the line of two characters in "Gatz." On the one hand, he plays a man bored at work who is fascinated with "The Great Gatsby," but his character also morphs into the book's narrator, Nick Carraway, as the rest of the cast evolves into the other characters, creating a synergy among the reader's, the actor's, and the viewer's experience of the work.
"I'm always looking for a way to make less of it pretend," says Shepherd, who doesn't like to prepare for the show beforehand. (It also probably helps that he has all 49,000 words of the novel memorized, which he calls a "freak accident.") "For me it was like an ideal situation where I didn't have to pretend to be Nick Carraway. That sort of ends up happening, not because I'm trying to portray a character but because I'm committed to an idea that is roughly what is really happening, which is just to be interested in the book for six hours…. Instead of showing the audience a character, I'm sort of escorting them through a piece of literature.… It dovetails the pleasures of live performance with the pleasures of reading."