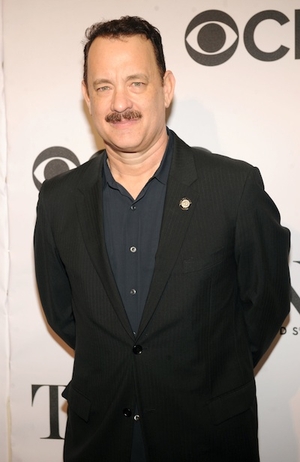 Tom Hanks might have two Oscars and A-list celebrity status, but he had never performed on a Broadway stage until this year.
"Can you be an actor in this world and not want to make a Broadway debut?" Hanks asked at the 69th annual Theatre World Awards on Monday night, where he was honored for his performance in Nora Ephron's "Lucky Guy." In a moving acceptance speech, Hanks spoke sincerely about how he and his friends called themselves "crap-hurdlers" in college, and how all he ever hoped as an actor was to be paid $50 a week—or a little bit more.
"Boy, I wish someone had leaned over in 1977 and said, 'You're going to be OK,' " he reflected.
Hanks was one of 12 performers celebrated the Music Box Theatre for enjoying their Broadway or Off-Broadway debuts this season.
"I was really good at being in the ensemble," said an emotional Ruthie Ann Miles, who received an award for her portrayal of Imelda Marcos in "Here Lies Love." Her co-star Conrad Ricamora, also honored, revealed that he was cast from an open call.
"If you don't take a chance on yourself, what the hell are you doing this for?" he said, adding that he almost didn't make it to New York for the audition after flight trouble.
A feeling of family permeated the evening. Crystal A. Dickinson, who won an award last year for her performance in "Clybourne Park," presented her husband Brandon J. Dirden with a statue this year for his work in August Wilson's "The Piano Lesson" at Signature Theatre.
"The people at the Theatre World Awards really know how to keep a happy marriage," Dirden joked. Then, more sincerely, he spoke about his decision to move to New York to pursue acting and fulfilling his dream to perform in a major revival of an August Wilson play. "I didn't start out to be an actor to just be fine," said Dirden. "I wanted to do something extraordinary."
Other actors honored include Bertie Carvel, Carrie Coon, Shalita Grant, Valisia LeKae, Rob McClue, Keala Settle, Yvonne Strahovski, and Tom Sturridge.
"The unexpected moments are the most beautiful and surprising," said Coon, who was honored for her performance as Honey in "Edward Albee's Who's Afraid of Virginia Woolf?," adding that she hopes this means she doesn't have to go to law school.
Alan Alda received the first John Willis Award for lifetime achievement, named for the awards' founder, which was presented at the eleventh hour of an almost three-hour ceremony.
"Is there anybody in here who doesn't have to pee desperately?" Alda asked. "Theater is about the truth!"
And while both Alda and Hanks joked about the connotation of honors for "lifetime" or "breakout" achievements, both were as bright-eyed as any newcomer.
"In these two words, 'Broadway debut,' there is the hint of more to come," a teary-eyed Hanks said. "I really hope so."