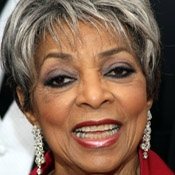 Black and Latino theatres face marginalization from the media, grantors, and audiences and companies must band together if they are to survive, according to many of the nearly 400 participants at a town hall meeting at the Little Shubert Theatre in Manhattan May 18.
It was the first public meeting by the Coalition of Theatres of Color, an alliance of 15 African-American and Latino companies that was founded in 2004 by Oscar-nominated actor Ruby Dee and her late husband, the actor and activist Ossie Davis, to unify low-budget minority theatres in New York State. It meets once a month to discuss common administrative issues such as budgets, space, and advertising. The town hall meeting was the first public presentation of issues faced by the CTC as a whole.
Yesterday, the topics ranged from funding problems to deep-seated racial issues in the United States. Dee (American Gangster, Do the Right Thing) welcomed the panelists with an ad-libbed speech that recalled her experiences at the American Negro Theater in Harlem during the 1940s.
"We used to sell magazine subscriptions to raise funds," said Dee. "But now we need things like grants‌ Competition for audiences has shifted because we can't depend on the grocer next door to sell our tickets."
Event panelists were representatives from The Black Spectrum Theatre in Queens, The New Federal Theatre in Manhattan, the Billie Holiday Theatre in Brooklyn, The New Heritage Theatre in Harlem, Teatro Sea in Manhattan, and The Ujima Theatre in Buffalo, N.Y. Members of the CTC have existed for at least 25 years and have annual budgets of about $250,000 or less.
Though no study currently exists on the state of theatres of color in comparison to other small, non-profit theatres with financial struggles, the panelists offered anecdotal evidence of marginalization, particularly by the media. Marjorie Moon from the Billie Holliday Theatre said that she continues to beg reviewers to see her shows, even going so far as to send them $25 money orders. According to Moon, she has been refused so many times that the Billie Holiday Theatre does not have valuable press clips to send with grant applications, which results in a lack of funding.
If theatres do receive media coverage, it is biased or obtuse, according to Lorna Hill, artistic director of the 30 year-old Ujima Theatre in Buffalo. "In Buffalo we don't have culturally competent reporters or reviewers," Hill said. "I would give one beautiful leg to not have another white reviewer show up in my theatre and misinterpret my work."
For Emanuel Moran, artistic director of Teatro Sea in Manhattan, Latino theatres face a twofold disadvantage when gaining media coverage: being a low-budget minority theatre, and featuring bilingual and Spanish language productions.
"Newspapers will send reviewers who don't speak Spanish," said Moran. "So they say, 'That was a beautiful show, but I didn't understand a word.' "
Some speakers claimed that although reviews are important, the minority communities should search internally for support. Councilman Charles Barron of Brooklyn, a supporter of the CTC, was called upon from his audience chair by the panel to say a few words.
"New York City is 55 percent black and Latino," said Barron. "If half of us, no, if a quarter of us supported the theatre, [the theatres of color] wouldn't have to ask for anyone to come and critique."
Despite the significance of money and logistics for all the panelists, the conversation never strayed far from the inherent cultural importance of small black and Latino theatres. Actor and guest speaker James McDaniel (NYPD Blue) said he got his start in the New York City black-theatre circuit and would not have embarked on his career without his initial jolt of community support.
"Theatre is a business, and brothers don't even know who the other brothers they're auditioning against, because it's a competition," said McDaniel. "From a performer's point of view, that is why we need black theatre, to encourage and nurture...otherwise [black actors] will feel all alone."
Though the Coalition is currently based in New York State, panelist Voza Rivers from the New Heritage Theatre hopes that the group's vision will extend to international proportions.
"We understood that being centered here in New York City was just the beginning," said Rivers. "We knew that if we expanded into the state, it would become a local, national, and international movement. We are taking this show on the road."