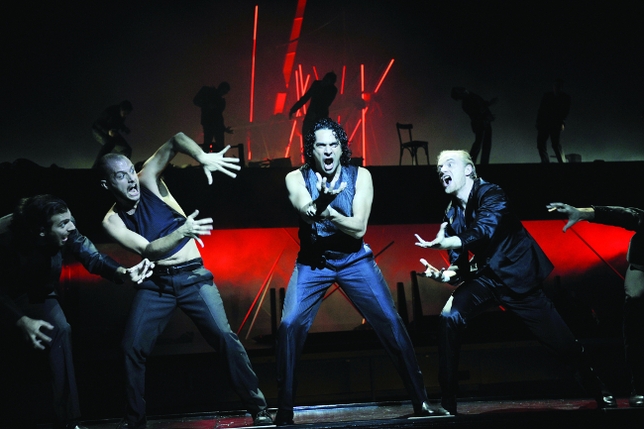 The San Diego Opera averted a shock closure and transformed what had been a pending tragedy for the company into a nail-biting comedy—all thanks to crowdfunding.
Opera is a medley of dramatic arts, incorporating acting, singing, dancing, ornate scenery and costumes and, often, a full orchestra. Keeping an opera company running can involve handling just as many moving parts behind the scenes. The San Diego company was thrown into turmoil over questions about fundraising for its 2015 season. During a March 19 meeting, the board voted 33–1 to close.
"It was kind of like the company throwing in the towel and saying, 'I don't want to do this
anymore,' " Carol Lazier, president of SDO, told Backstage. "It was just odd because it didn't fit the profile of a company going under. But that was the only option we were given. It seemed like the right thing to do at the time."
The medium has seen some high-profile closures in the past year, including the New York City Opera, which shuttered last fall after it fell short during a multimillion-dollar crowdfunding campaign.
Lazier pointed to several differences between SDO and the New York company.
"New York City Opera was financially strapped and having problems for years, so they kept telling the public, 'We're going to close,' and coming in and out of crisis," she said. "I think people kind of got immune to it."
The SDO wasn't on the verge of bankruptcy, she said. "San Diego Opera had a balanced budget and money in the bank. Everybody thought ours was healthy and vibrant, and all of a sudden it's going to close?"
After the shock closure vote in March, board members spent five weeks postponing the company's dissolution. "After the last time we postponed it, half the board walked out," Lazier recalled.
The staff, who had been in a holding pattern expecting to be laid off, suggested a crowdfunding campaign that would deliver funds through the company's website instead of using a platform like Indiegogo or Kickstarter, which take a percentage of the haul.
The effort was launched April 25 and quickly raised $1 million in online donations and checks. Money came from 33 states and from as far away as Portugal—almost half of the donors had never contributed before. With its website humming, the company sent a direct mail appeal to its supporters, which brought in even more donations. By the time the campaign ended on May 19, it had raised more than $2.1 million. Lazier kicked in $1 million to honor a challenge she'd made to the board. "It was just incredible," said Lazier.
The company, which has an operating budget of $10.5 million, now has about $4.5 million banked. It needs to raise another $2 million to meet its current goals, but has about another year to do that. In the meantime, it's planning special events for the fall, three operas, and a concert for its 2015 season, which will run January through April. It announced William Mason as its new artistic advisor May 30 and is seeking to rebuild its now-23-member board, down from 53 members.
"There was a huge outpouring from the community that they really wanted an opera to survive," Lazier said. "Subscriptions only cover about 40 percent of the opera's costs. You still need a huge philanthropic community supporting it because it's such an expensive art form."
Inspired by this post? Check out our audition listings!