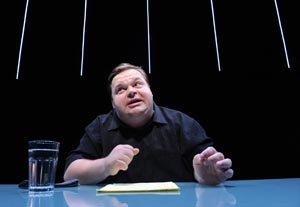 On Friday, NPR's "This American Life" retracted an entire episode about inhumane working conditions at the Apple products manufacturing facility in China, after an internal investigation determined that some facts in the story were fabricated. The episode was an excerpt of performance artist and monologist Mike Daisey's one-man show, "The Agony and the Ecstasy of Steve Jobs," in which Daisey describes his visits to a factory owned by Foxconn that manufactures iPhones and iPads in Shenzhen, China.
"Daisey lied to me and to 'This American Life' producer Brian Reed during the fact checking we did on the story, before it was broadcast."
Glass said
. "That doesn't excuse the fact that we never should've put this on the air. In the end, this was our mistake." You can also
read a press release
that details the ways Daisey's theatrical production was misleading to "This American Life" fact-checkers.
This weekend's episode of "This American Life" will be devoted entirely to detailing the factual errors in "Mr. Daisey Goes to the Apple Factory," which originally aired on January 6 and became the most popular podcast in the show's history. Daisey spoke again with "This American Life" host Ira Glass and "Marketplace" China reporter Rob Schmitz (who blew the whistle on the inaccuracies in Daisey's story) for an interview that will air tonight.
"I'm not going to say that I didn't take a few shortcuts in my passion to be heard," Daisey tells Schmitz and Glass. "My mistake, the mistake I truly regret, is that I had it on your show as journalism, and it's not journalism. It's theater."
Daisey has toured his monologue to theaters around the country, and is performing the show at the Public Theater in New York City through March 18. A transcript of "The Agony and the Ecstasy of Steve Jobs" is available for free download on
Daisey's website
.
"This American Life" and WBEZ Chicago had planned a live presentation of Daisey's monologue on stage at the Chicago Theatre on April 7, with Glass leading a Q&A afterwards. That show will be cancelled, and all tickets will be refunded.
Daisey responded on Friday by posting the following statement on his
website
:
"I stand by my work. My show is a theatrical piece whose goal is to create a human connection between our gorgeous devices and the brutal circumstances from which they emerge. It uses a combination of fact, memoir, and dramatic license to tell its story, and I believe it does so with integrity. Certainly, the comprehensive investigations undertaken by The New York Times and a number of labor rights groups to document conditions in electronics manufacturing would seem to bear this out.
"What I do is not journalism. The tools of the theater are not the same as the tools of journalism. For this reason, I regret that I allowed THIS AMERICAN LIFE to air an excerpt from my monologue. THIS AMERICAN LIFE is essentially a journalistic - not a theatrical - enterprise, and as such it operates under a different set of rules and expectations. But this is my only regret. I am proud that my work seems to have sparked a growing storm of attention and concern over the often appalling conditions under which many of the high-tech products we love so much are assembled in China."