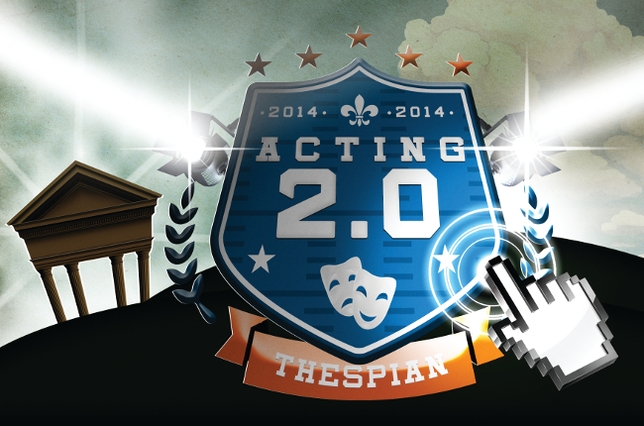 Before gadgets and Google made research and note-taking simple, students struggled to keep up with their teachers; nowadays, the growing necessity for performers to be able to create, produce, edit, and star in self-made content has institutions working to keep up with students' needs. Changes in standards mean changes in the curriculum.
"Given the direction the industry is moving in, we felt one area that we really needed to be offering more in our curriculum was our digital media area," says David Mold, chair of the fine and performing arts division at Marymount Manhattan College. "We created a concentration that we're launching in fall of 2014 in performance and digital media. Students that come into that major will take a mix of classes that are in the theater department, as well as the arts communication program, and then some new courses that we're creating in collaboration with colleagues."
Designed for students with interest in varying disciplines such as video, music, social media, theater, performance, and more, the new performance concentration allows for a seamless integration of them all, and prepares students for the next generation of media and theatrics. In addition, Marymount Manhattan has just added a dance minor, and majors in theater studies and writing for the stage.
Also bringing more attention to dance is Pace University, which recently added a BFA in commercial dance to offer comprehensive training that "bridges the gap between classical dance technique and the professional world of commercial dance." The school has also added an Acting for Film, Television, Voiceovers, and Commercials BFA, which allows students to take hold of their own careers through instruction of camera techniques and other technical skills alongside Stanislavsky, Meisner, and the Method.
Pace's Performing Arts Department Chair Jorge Cacheiro says the program is a physical one. "It's really important for actors to play off their impulses," he says. "We incorporate into the training of our performers [physical work] that empowers impulses and physically allows the body to respond to impulses—like kickboxing and boxing, where a counteraction is required." Along with great instincts, he hopes all students graduate with what he calls a "reel on steroids": a polished, professional reel of the theater, voiceover, film, and commercial work created at Pace.
For Juilliard, it's less about screen time and more about stage time. In fall 2012, the prestigious department added an MFA in Drama to its curriculum and will be welcoming its third installment of the program this year. The drama division's director, James Houghton, says the school is dedicated to creating a more sympathetic artist with its MFA program, providing seminars on playwriting and directing, for example, so actors understand the broader context of their work.
"One of the great strengths of our program is that we mix the two populations, so the MFA and BFA work in tandem," says Houghton. "[Students] also have discrete tracks where they're isolated by degrees, but the vast majority of their time is spent commingling. We believe it's a richer experience.... Talent, instinct, and courage are not attached to an age!"
Want more? Check out news and advice from our college guide! Still not college-age? Check out some tips for kids below!