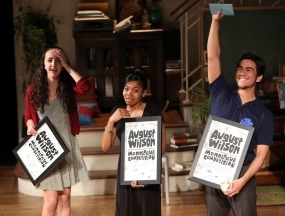 Three finalists have been chosen to represent Southern California in the final rounds of the August Wilson Monologue Competition in New York in May.
Pablo Lopez of Los Angeles, Rhyver White of Hawthorne, and Eliana Pipes of Altadena finished in first, second, and third, respectively.
Lopez, who also received a $500 scholarship, is guaranteed a place in the final round in New York City on May 6, but White and Pipes, who took home scholarships of $250 and $100, are national semifinalists and will need to perform in a semifinal round in New York with students from six other regions for a chance to move on to the national finals.
Judges for the final Los Angeles round, which was held March 4 at the Mark Taper Forum, included actors Michael Beach, Keith David, and Loretta Devine, as well as Ebony Repertory Theatre Artistic Director Wren Brown and L.A. County Arts Commission administrator Kimberleigh Aarn.
This is the second year CTG is participating in the AWMC, a national contest that draws finalists from seven cities to showcase their talent in Broadway's August Wilson Theatre.
"Center Theatre Group is proud of our three New York-bound performers and of all of the students who have discovered Wilson and his profound works through our program," Michael Ritchie, CTG's artistic director, said in a statement.
The program, which was started at Atlanta's True Colors Theatre Company after Wilson's death in 2005, is designed to familiarize students with the life of the African-American playwright. They choose a two- to three-minute monologue and study the character in one of the 10 plays in Wilson's "Century Cycle," which chronicles the experience of African Americans in each decade of the 20th century.