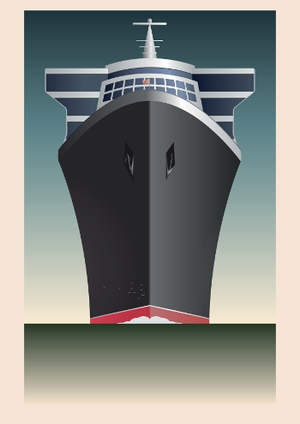 Actors craving a life of adventure and musical theater on the high seas don't need to live near an ocean to be cast in onboard cruise ship productions. Casting directors for the major cruise lines hold auditions in cities around the world on a rolling basis.
"We just did our New York auditions for 'Legally Blonde' and 'Rock of Ages,' and we have auditions coming up in L.A. next month," Robert Dean Hertenstein, Norwegian Cruise Line's manager of theatrical operations, told Backstage.
"We also do a lot of the colleges in the spring; in the summer we go over to Europe and do London, Berlin, Newcastle, Stockholm, and Amsterdam. We go to Australia and the Philippines in November."
The cruise line productions aren't union—the companies say that's because of the multinational casts—but they do offer competitive salaries and added perks. For instance, young performers can get a taste of fame after they step off the stage.
"They become like the little megastars on board," said Hertenstein. "When they're out and about, like at a bar or having dinner somewhere, people are going to approach them and want to talk to them."
As a result, he added, "We really look for people who can not only sing and dance but are also personable and very engaging with our guests. We want our cast to be approachable."
Hertenstein said Norwegian attracts some established talent for shows like "Legally Blonde," but mainly recruits performers who are fresh out of college. He's hoping that will change.
"We're trying to get away from the stigma of cruise ship entertainment," he said. "We're working with [choreographer] Patty Wilcox. We have all these incredible, talented directors and creatives that we're working with. And we're trying to attract the stronger performer."
Because of the rolling locations for auditions, performers are typically cast after a single appearance before the companies' theatrical staff. "We usually give them a guideline of what we'd like to see," said Kevin Miller, who leads the casting process for Princess Cruises. "We're going to want something for musical theater that has a sustained belt, and then we're also going to want to see a contemporary pop edge out of them as well."
After being cast, the performers then go to the company's U.S. rehearsal center for five to six weeks before starting a six-month contract at sea.
"It's a great way to save money because your accommodations and food and everything are provided," Miller said, "so I have a lot of performers who do a contract or two and then go back to New York or the West End or wherever their home base may be, and pursue other endeavors."
While on board, performers get "passenger privileges." Top talent are accommodated in their own "officer" grade rooms while dancers generally share a room. But actors don't work a cruise to stay in the room. "Spending the summer in the Mediterranean is not a bad gig," said Miller.
Want to put these tips to use? Check out our cruise line casting notices here!