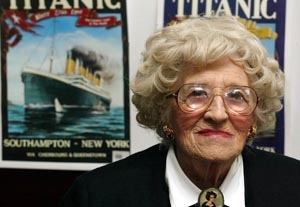 'Titanic' stars Leonardo DiCaprio and Kate Winslet and the film's director James Cameron have responded to a challenge and donated $30,000 to support the last survivor of the Titanic in her last years, a representative for DiCaprio said on Monday.
The survivor, 97-year-old Millvina Dean, has reportedly resorted to selling her autograph to pay her nursing home bills in Southampton, the English city from which "Titanic" began its fateful maiden voyage in 1912.
Dean was only 9 weeks old when her family traveled on Titanic in hopes of beginning a new life in the United States. Her father was one of the 1,517 casualties after the supposedly unsinkable ship hit an iceberg in the Atlantic.
DiCaprio, Winslet and Cameron made their combined $30,000 donation after Irish author and photographer Don Mullan publicly challenged them to match his donation, said Ken Sunshine, a spokesman for DiCaprio. Mullan, who photographed Dean for an exhibition, made his appeal last month in the Irish Independent newspaper.
The 1997 drama "Titanic" made more than $1.8 billion at the worldwide box office, making it the highest-grossing film of all time in figures not adjusted for inflation. It went on to win 11 Oscars, including best picture.
(Reporting by Alex Dobuzinskis; Editing by Dean Goodman and Bill Trott)
---
COPYRIGHT: (c) Reuters 2008. All rights reserved. Republication or redistribution of Reuters content, including by caching, framing or similar means, is expressly prohibited without the prior written consent of Reuters. Reuters and the Reuters sphere logo are registered trademarks and trademarks of the Reuters group of companies around the world.