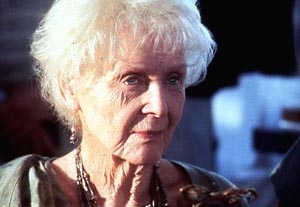 Gloria Stuart, who played an older Kate Winslet in "Titanic," died Sunday in Los Angeles. She turned 100 last July 4.
She was diagnosed with lung cancer several years ago, said her daughter, Sylvia Thompson, who confirmed her death to The Washington Post.
Stuart became the oldest Oscar nominee in history when she received a nod at age 87 for the 1997 role.
Stuart joked at the time that she was one of the few actresses who was "still viable, not alcoholic, rheumatic or falling down."
She starred in more than 40 films in the 1930s - but was best known for her role of Rose in "Titanic.
"When I graduated from Santa Monica High in 1927, I was voted the girl most likely to succeed. I didn't realize it would take so long," she joked in her 1999 memoir, "I Just Kept Hoping."
– The Hollywood Reporter