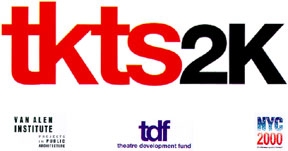 Closed since superstorm Sandy hit New York City last week, TKTS' Downtown Brooklyn ticket booth reopens today, Nov. 6, at 11 a.m. The booth, which is steps from the MetroTech/Jay Street subway station, sells same-day discount tickets for Broadway and Off-Broadway evening performances, as well as next-day discount matinee tickets.
While TKTS' Times Square location opened back up last Wednesday when Broadway productions reopened, TKTS' booth in the South Street Seaport remains closed because of the extreme water damage the area sustained.
Now in its 40th year of operation, TKTS' Times Square both recently announced two new services: matinee and evening show tickets are now sold simultaneously, and window one will serve as the "Full-Price Ticket Window, selling full-price tickets to future performances.
TKTS' Downtown Brooklyn booth will be open 11 a.m.–6 p.m., Mon.–Sat.