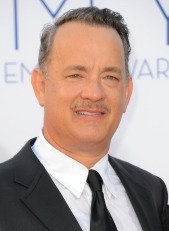 Tom Hanks will make his Broadway debut in the late Nora Ephron's "Lucky Guy," it was announced today.
The two-time Academy Award winner (and former "Bosom Buddy") will play real-life journalist Mike McAlary under the direction of George C. Wolfe. McAlaray was a reporter for the Daily News who won a Pulizter for his reports on the Abner Louima case before his death on Christmas Day 1998.
Shortly after Ephron's death this past summer, producers released a statement confirming their support for the project; though Hanks' involvement had long been rumored, today was the first official confirmation that he would be starring.
"Lucky Guy" will open April 1, 2013, at the Broadhurst Theatre. Previews begin March 1. Jordan Thaler and Heidi Griffiths are casting.