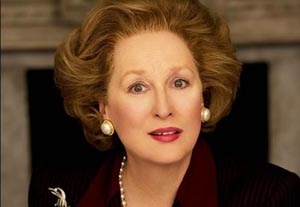 Following an advance screening tonight of the new film "The Iron Lady," you will be able to participate in a live online Q&A session with acclaimed actress Meryl Streep and director Phyllida Lloyd.

On Tuesday, December 6th after a select screening at the DGA Theater in New York City, the live Q&A will begin at approximately 8:45 p.m./ET, and will be made available online in the following space:

The Q&A will be moderated by The Hollywood Reporter's Scott Feinberg.
The Weinstein Company hosted a similar event last year with the film "The King's Speech" and had over 20,000 questions submitted in a 30-minute period during the Q&A.
For tonight's event, viewers can submit questions at Ironladymovie.com and facebook.com/theironladymovie.

Opening in select U.S. theaters on December 30th, the film is an intimate portrait of Margaret Thatcher (Meryl Streep), the first and only female Prime Minister of The United Kingdom. One of the 20th century's most famous and influential women, Thatcher came from nowhere to smash through barriers of gender and class to be heard in a male dominated world.

Directed by Phyllida Lloyd, The Weinstein Company's "The Iron Lady" stars Meryl Streep, Jim Broadbent, Harry Lloyd, Olivia Colman, and Alexandra Roach. It is written by Abi Morgan and produced by François Ivernel, Damian Jones, Adam Kulick, Cameron McCracken, Anita Overland, Tessa Ross, and Colleen Woodcock.
Make sure you save this link and return here on Tuesday, December 6th at 8:45 pm/ET to take part in this unique online event!