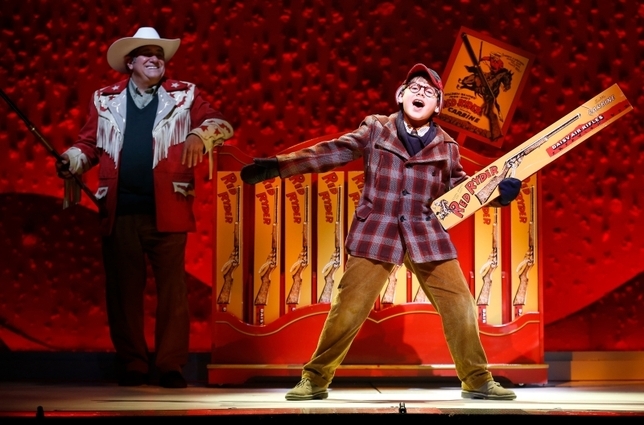 Berry Gordy is probably not having a very good day. Though his autobiographical jukebox tuner "Motown: The Musical" continues to dominate the Broadway box office, the show was shut out of the best musical category of the 67th annual Tony Awards.
This category—the gold standard of Broadway marketing—boasted some of the biggest surprises when the nominations were announced April 30. Critic- and crowd-favorites "Kinky Boots" and "Matilda: The Musical" made the cut—as well as the long-closed "A Christmas Story: The Musical" and "Bring It On: The Musical."
The inclusion of "Christmas Story," which also received Drama Desk and Outer Critics Circle nominations, was expected; it also earned nominations for its score by Benj Pasek and Justin Paul and book by Joseph Robinette. However, "Bring It On" receives its first best musical nomination of the season, ousting the short-lived, though beloved, "Hands on a Hardbody," which many saw as a lock for a best musical mention after leading the Drama Desk nominations on Monday.
However, a shuttered show didn't stop many of this year's nominees. Carolee Carmello and Rob McClure both secured nominations for as leading actress and actor in a musical their work in the now-closed, generally panned musicals "Scandalous" and "Chaplin." And the critically lauded though commercially unsuccessful Lincoln Center revival of Clifford Odets' "Golden Boy" landed eight nominations, including best revival of a play and featured acting nods for Tony Shalhoub and Danny Burstein.
Though Broadway had a starry year, the Tinseltown Effect was not in evidence this year; stars such as Al Pacino, Jessica Chastain, Scarlett Johansson, Alec Baldwin, and Bette Midler tread the boards, but Tony nominators bypassed their performances. Baldwin's "Orphans" co-star Tom Sturridge landed a spot in the leading actor category, though, and while Alan Cumming's "Macbeth" and Midler's "I'll Eat You Last" were both shut out of awards entirely, Holland Taylor scored a nod for her solo work in "Ann." And "The Testament of Mary" became the first Tony nominations casualty, posting a closing notice the morning the noms were announced despite earning three, including one for best play.
The acting ensembles of "Vanya and Sonia and Masha and Spike" and "Who's Afraid of Virginia Woolf?" dominated the acting categories, with Kristine Nielsen, Shalita Grant, David Hyde Pierce, and Billy Magnussen of "Vanya" and Tracy Letts, Amy Morton, and Carrie Coon of "Woolf" all nabbing nods.
The biggest news of the Tony nominations this year arguably came on Friday, when the four child actors who share the title role in "Matilda the Musical" were given special Tony honors and ruled ineligible in the leading actress in a musical, a direct contradiction of the precedent set in 2009 by the child stars of "Billy Elliott." Other standout young performers, such as Lilla Crawford in "Annie" and Raymond Luke Jr. in "Motown," were not recognized.
Other notable omissions included Anthony Warlow's Daddy Warbucks in "Annie" and Rachel Bay Jones' work in "Pippin." Warlow was ruled as a lead, which may have hurt his chances at a nomination. However, British actor Bertie Carvel, who many believe should have been considered in the featured category, landed a leading nomination for his cross-dressing turn as headmistress Miss Trunchbull in "Matilda: The Musical." Carvel earlier won the leading Olivier, and Tony prognosticators predict he'll follow it with a Tony Award. However, anything can happen when the winners are announced during the ceremony at Radio City Music Hall June 9!