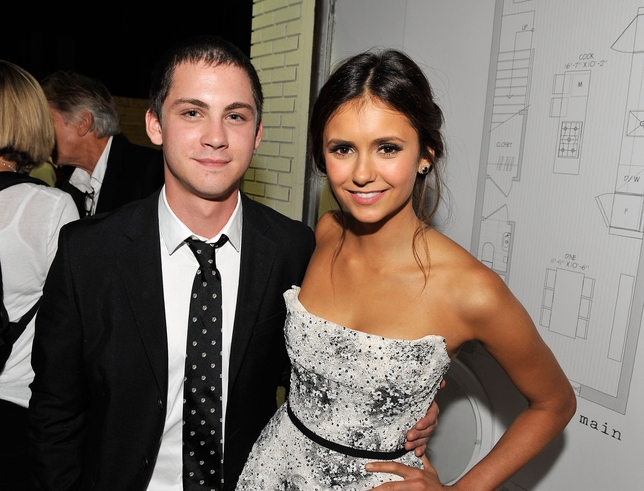 Backstage was thrilled to co-sponsor the premiere party for "The Perks of Being a Wallflower," writer-director Stephen Chbosky's adaptation of his own bestselling 1999 novel. The crowd at Toronto's Ryerson Theatre went crazy for the film, which stars Logan Lerman, Emma Watson, and Ezra Miller. (For more on the film, check out this week's Backstage cover story on Lerman, who I first met at this very festival five years ago when he was with a film called "Bill"—eventually released as "Meet Bill." He's been an actor to watch every since, and his sweet, nuanced portrait of troubled teen Charlie in "Perks" marks a career high.) Asked about kissing costar Watson on screen, Lerman laughed and pointed out, "We were surrounded by crew members and had a camera in our faces. Not terribly romantic." Check Backstage.com on Monday for video interviews with the cast of the film, including red carpet stunners Watson and Nina Dobrev.

Paul Thomas Anderson's "The Master" has been the movie on everyone's mind for months now, sure to divide audiences. Beautifully shot, wonderfully acted, it will likely be a love-it-or-hate-it affair, but most people seem to be coming down on the side of loving it. Talking briefly to Anderson in the hall before he headed over to Saturday's press conference, the auteur seemed fairly serene about all the buzz. I'm not sure if I spoke to him before or after he received word that he had won the Silver Lion—the director award—at the Venice Film Festival that very day. In addition, leading men Joaquin Phoenix and Phillip Seymour Hoffman shared the Best Actor prize. Phoenix did not attend the press conference, though he is in town. Asked about it, Anderson replied simply, "He's too unpredictable."

I also spoke to "The Master" co-star Amy Adams, a surefire Oscar nominee for Best Supporting Actress, who revealed that Anderson offered her the role of Hoffman's wife without an audition. But she does still audition from time to time—her upcoming role as Lois Lane in Zack Snyder's upcoming Superman reboot "Man of Steel" required an audition. Seems odd that Anderson wouldn't require her to read but Snyder would, but that's Hollywood.

The belle of the red carpet Saturday was Jennifer Lawrence, stunning in Christian Dior at the premiere of "Silver Linings Playbook." With her hair back to brown to shoot the "Hunger Games" sequel "Catching Fire," Lawrence turned many heads. Her "Silver Linings" leading man Bradley Cooper had his share of admirers, as well. And the pair have fantastic chemistry in the film, which received a thunderous standing ovation. They obviously work great together; the two have already re-teamed for Susanne Bier's upcoming drama "Serena," due next year. Also due next year—as Cooper confirmed at the after-party at the Soho House—will be Cooper bringing his acclaimed Williamstown production of "The Elephant Man" to Broadway. It's his favorite play, and a dream role for the actor.

Coming Sunday: the premiere of "The Sessions," starring John Hawkes as real-life poet/journalist Mark O'Brien, who had to spend much of his life in an iron lung after a childhood bout with polio. I had the opportunity to sit down with the great Hawkes today, who is very shy about accepting praise for his performance. But he needs to get used to it. He just might be the man to beat for Best Actor this year.