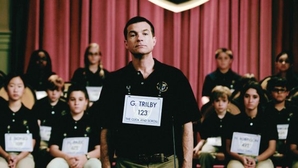 With all the Oscar hoopla surrounding the Toronto Film Festival, it can be difficult to remember there are plenty of films that come to the fest seeking distribution. Thus far, two major sales have been made: Following its Friday night premiere, "Bad Words" sold to Focus Features, and the Weinstein Company ended up being the final winner in a bidding war for "Can a Song Save Your Life?."
Neither sale is a surprise, as both films played to great response and have solid commercial prospects. "Bad Words" is the feature directorial debut of Jason Bateman, who stars as a foul-mouthed misanthrope who exposes a loophole that allows him to enter a children's spelling bee. Variety's Justin Chang called it an "exuberantly foul-mouthed and mean-spirited comedy," and the audience at the Friday premiere loved every minute of it. By the next day, Focus Features had acquired it for $7 million.
"Can a Song Save Your Life?" proved a trickier proposition. A musical drama starring Keira Knightley as an aspiring musician and Mark Ruffalo as a music producer, "Song" is the sophomore effort from director John Carney, who burst onto the scene with the beloved indie "Once." One individual involved with the production admited the day before its premiere to some concerns about how it would play--would people accuse Carney of "going Hollywood," dressing up his previous film with big stars and a bigger budget? They needn't have worried; audiences loved the film, and Chang remarked that the film actual benefitted "from a much bigger budget and set against the backdrop of New York City." Weinstein Company purchased the film for $7 million, following a bidding war with Fox Searchlight.
Both films will be released in 2014.