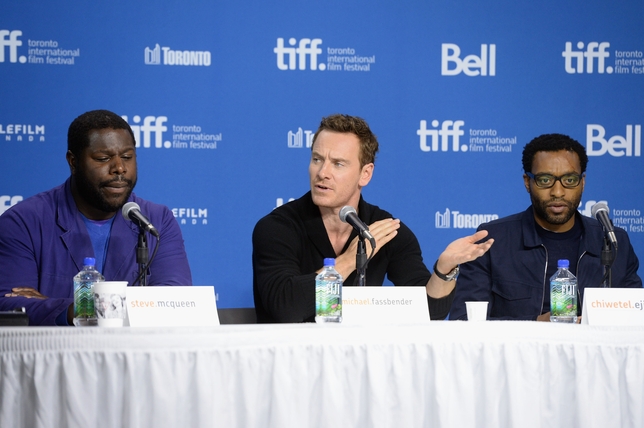 The 38th Annual Toronto International Film Festival kicked off Thursday night, and by Saturday morning, there were already some big winners and losers. The opening night film, "The Fifth Estate," came in with high expectations considering it's director is Oscar winner (for original screenplay for "Gods and Monsters") Bill Condon and it stars Benedict Cumberbatch as Julian Assange, founder of WikiLeaks. Biopics are hot, the fact that the material is recent is hotter, and no one is hotter than Cumberbatch (Errr…in terms of pop culture, I mean. Ahem.) Yet despite a standing ovation from the crowd at the premiere, the critics seemed underwhelmed.
Still, "Fifth Estate" fared better than the star-studded "Parkland," an ensemble piece with Zac Efron, Billy Bob Thornton, and Paul Giamatti adapted from Vincent Bugliosi's book "Four Days in November: The Assassination of President John F. Kennedy." The film had already premiered to poor reviews days earlier at the Venice Film Festival, and Toronto audiences seemed equally unimpressed. In fact, at the Friday night premiere, there was more drama outside the theater than in, as THR's Scott Feinberg reported from the Roy Thompson Hall: "As ticket holders filed into the theater, a man ran up and down Simcoe Street yelling, "Don't believe this movie! The CIA killed John Kennedy!"
While "Parkland" was unspooling, a few miles away, "Prisoners" was faring much better at it's Toronto premiere. The Warner Bros. release features commercials that seem to sell the film as a highbrow "Taken"—a father (Hugh Jackman) kidnaps the a young man (Paul Dano) he suspects of abducting his daughter and her friend, and is prepared to beat the truth out of him. But director Denis Villeneuve, who helmed the Oscar-nominated foreign film "Incendies," is interested less in action and more in exploring the dark side of humanity from all angles. In other words, be prepared to watch Wolverine torture that sweet kid from "Little Miss Sunshine." Some audience members couldn't take, and several left before the end. (Though it's important to note that walk-outs at film festivals are very common, as everyone has lots of places to be.) Those who stayed praised the film for its smart, complex script that takes it's time to unfold (the film runs two and a half hours) and Jackman for his fantastic, daring performance. Some speculate the actor could snag a second Oscar nomination for his turn. Jackman's co-stars certainly find him worthy; at the "Prisoners" press conference, Terence Howard proclaimed: ""You're not witnessing a man acting, you're witnessing a man channeling all this frustration. So, yeah, he deserves an Oscar." Jackman is certainly in the running, but the year is already shaping up to be awfully tough in the best actor race.
Which brings us to the other big premiere Friday night, Steve McQueen's "12 Years a Slave," still riding high off of taking Telluride by storm. Fans of Cumberbatch got another chance to spot their hero, who plays a sympathetic slave owner in the film. Brad Pitt, whse Plan B produced, also has a small role, and the streets were lined with fans hoping to catch a glimpse of him or Cumberbatch. The praise for the film continued in Toronto, particularly for leading man Chewitel Ejiofor, who stars as Solomon Northup, a free man sold into slavery in the film based on his memoir. While Ejiofor knows it's not going to be an easy film to watch, he wanted to tell every aspect of the story. As he said at the press conference, "It'd be a disservice to him and his journey if we couldn't tell the story." The film seems a lock for best actor, screenplay, direction, and picture nominations. Michael Fassbender also looks to be a likely candidate for supporting actor, bringing surprising depth and even empathy to a despicable plantation owner. This is Fassbender's third film with McQueen, following "Hunger" and "Shame"—both of which also premiered at the Toronto Film Festival. The third time must be a charm, as McQueen has made his best and most accessible movie yet.
Since Telluride, Ejiofor has been considered the man to beat for the best actor Oscar, with names like Bruce Dern ("Nebraska"), Robert Redford ("All is Lost"), Tom Hanks ("Captain Phillips) as his competition. But that was before the Saturday premiere of "Dallas Buyers Club," featuring Matthew McConaughey in the true story of a man who contracts AIDS in 1986 and finds he has to travel outside America to get his medication, starting a drug ring for fellow patients. More on that shortly.