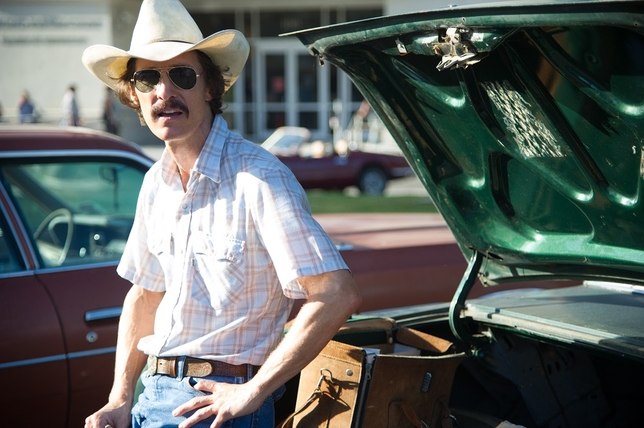 A Hollywood hunk and onetime bad boy (remember that arrest for playing the bongos naked?) settles down and becomes a family man. He gives an offbeat, wonderful performance in a hit movie ("Magic Mike") for which many people believed he deserved an Oscar nomination. He then delivers an unrecognizable turn in a small indie ("Mud") that makes critics really take notice. In the same year, he appears in a film in which he loses 50 pounds to play a man with AIDS in a riveting true-life story. Sometimes, the stars align and things seem destined: Matthew McConaughey has an excellent chance to walk away with the Academy Award for Best Actor next year for his turn in "Dallas Buyers Club."
Aside from all those factors falling into place, there's one other thing—he's absolutely stellar in the movie. The film, which had it's world premiere Saturday night at Toronto, is set in 1985. McConaughey plays Ron Woodruff, a gambling, drugged-up, homophobic cowboy who, nonetheless, is kind of charming. Director Jean-Marc Vallée first shows him preparing to come out of the gate at a rodeo, where he rides broncos—but instead he's mounting his latest conquest. When he's diagnosed with HIV, the macho good old boy is sure it's a mistake—his response is go out and have a drug-fueled orgy. McConaughey is excellent at playing the gay bashing Woodruff without making him a cartoon villain, despite some of the horribly vile dialogue he spouts. Living in a time where people believe the virus only affects gays and that it can be transmitted by sharing a glass of beer, Woodruff soon finds himself an outcast.
A born con man, he is soon bribing a hospital orderly to slip him AZT, the precious drug he's read about that is undergoing clinical trials. When that runs out, he travels to Mexico where he hits upon a scheme to bring back meds unavailable to patients in the US. Of course, his customers are the same people he's been scorning for years, led by Rayon, his transgender partner ("Business partner!" he's quick to correct), beautifully played by Jared Leto.
As a film, "Dallas Buyers Club" is admirably restrained—it never turns maudlin or sappy, and its emotions are completely earned. That is thanks largely to McConaughey, who never allows Ron to soften too much. While he forms a grudging respect for Rayon that even blossoms into affection, it goes largely unspoken. His vulgar slurs become kind of terms of endearment over time, which is how you know Ron genuinely finds Rayon an equal. Like Ron riding the bronco, the film comes out of the gate hard and fast—the first hour is stellar. If the second half doesn't quite live up to that potential, it's not the fault of the actors.
McConaughey is a gifted comic, and can communicate so much with a look or even a single word. When he dons various disguises to keep from arousing suspicion while transporting drugs, the trademark McConaughey charm is on full display. And as he's proven with recent entries like "Mud" and "Killer Joe," he has the dramatic chops to match. It's a performance that veers from furious to heroic, and one of the best of the year.
On a side note, another one of the best performances of the year that will be discussed after Sunday night's premiere of "Gravity" is that of McConaughey's ex-girlfriend, Sandra Bullock. How amazing would it be to see these two on stage together Oscar night, 17 years after they starred together in "A Time to Kill"?