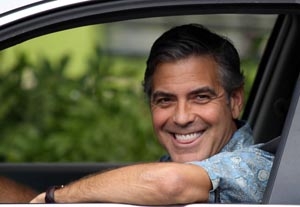 The first weekend of the Toronto International Film Festival is out of the way, and already some winners and losers have emerged.
Over the next few days, I'll have reviews of films, interviews with actors and filmmakers, and news from the fest, but for now I'm just going to touch on what people are talking about. Having talked to a lot of critics, distributors, and just plain lovers of film over the last weekend, here's how things seem to be shaping up so far...
What everyone seems to agree on: "The Descendants" is a big winner. Alexander Payne charmed Toronto seven years ago with "Sideways" and he's back with his follow-up to that Oscar winner, a dramedy starring George Clooney as a land baron in Hawaii struggling to raise his daughters after his wife suffers an accident that leaves her comatose.
Critics and audiences have gone nuts for the film, which features one of Clooney's best performances to date. It also signals the arrival of Shailene Woodley, who plays his 17-year-old daughter and is a major discovery--we'll post an interview with her later this week.
READ MORE ON THE 'BEHIND THE SCENES' BLOG