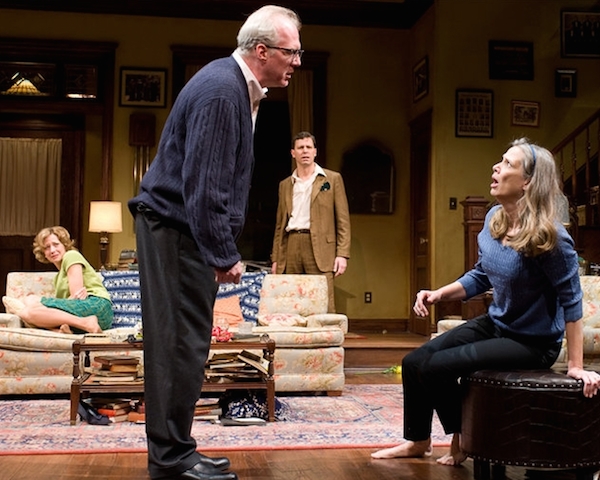 Three members of the four-person cast of "Who's Afraid of Virginia Woolf?" are making their Broadway debuts.
"It's totally surreal," says Carrie Coon, who earned rave reviews for her portrayal of Honey in the production when it opened at the Steppenwolf Theatre in 2010 and at Arena Stage in 2011. "I don't know if I'll actually believe it until there are people in there."
Coon, along with co-stars Madison Dirks and Tracy Letts, are making their Broadway acting debuts in the 50th anniversary revival of the beloved Edward Albee play, which opens Oct. 13 at the Booth Theatre.
Dirks, who earned his Equity card on this production, moved to Chicago to pursue theater because that's where his favorite actors studied their craft, and he advises other young actors to do the same.
"Break down what do you want to learn, what do you want to become good at, and what kind of work do you want to do?" Dirks says. "And then go to that place, and then by being there immerse yourself with the people who work. And that's what I did, and I crashed Equity theater auditions. That's how I got involved with Steppenwolf pretty quickly."
Letts and Amy Morton have previously worked together countless times as playwright and actor, actor and director, and as actors, and while Letts has earned a Pulitzer Prize as a playwright with "August: Osage County," which starred Morton in a Tony-nominated role, this is his Broadway debut as an actor. Morton previously directed Letts in a production of "Virginia Woolf" at the Alliance Theatre in Atlanta, and Letts wouldn't want to take the stage with anyone else by his side.
"Amy is a great actor and she has great theatrical mind and we've just developed such trust with each other as actors," Letts says. "She's directed me; I've written plays that she's been in. We share an aesthetic and an ethic about the work. It's a natural fit for us to do this together."
And Morton feels the same way.
"We work very differently, but we love the way the other works," Morton says. "So I always feel taken care of. I always feel he has my back. And we have the same sensibilities, the same sense of humor. He's just a dreamboat to work with. I feel really lucky to have someone like him."