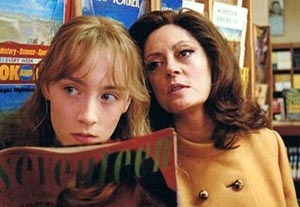 Now that director
Peter Jackson
has gotten effects-driven blockbusters like "King Kong" and "Lord of the Rings" out of his system (mostly), he makes his return to character-driven stories -- albeit with some dazzling special effects -- in "
The Lovely Bones
." (At least there's no hobbits this time.)
While it's not quite "
Heavenly Creatures
," in this film the auteur of Wellington creates decidedly more actor-friendly fare. And like that film -- which was a breakout performance for the young Kate Winslet -- this film has the potential to make a star out of
Saoirse Ronan
, who first struck notice in "Atonement."
See the trailer below. The film opens in the United States on December 11, 2009.