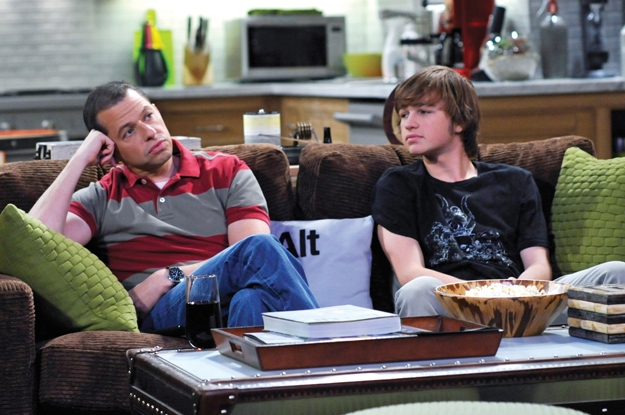 Angus T. Jones' plea to be released from his contract on "Two and a Half Men" came as little surprise to the managers and families of child performers.
Jones' comments in an interview with Alabama-based Christian doomsday preacher Christopher Hudson have sparked a backlash against the actor. In the lengthy interview, Jones said his work on the long-running CBS series "means nothing."
He addressed the viewers directly. "If you watch 'Two and a Half Men' please stop watching 'Two and a Half Men.' I'm on 'Two and a Half Men' and I don't want to be on it. Please stop watching it. Please stop filling your head with filth," he said.
Jones said his views had been shaped by his joining a Los Angeles–area Seventh-day Adventist Church.
"I walked in and sat down kind of in the back. The message that the pastor was preaching that day was tailor-made for me. Everything about the message was me," he said. "That was my church."
The Seventh-day Adventist Church, a Protestant denomination, marks Saturday as the Sabbath and believes that the second coming of Jesus Christ is imminent.
Jones' employers aren't commenting on the young actor's expression of his religious beliefs. Jones later issued a statement apologizing to cast and crew for his comments, saying he did not intend them to be disparaging. But the reaction from TV columnists, critics, and viewers of the show has been swift: Don't let the door hit you on the way out.
"If Angus doesn't want to work on a hit show, why should he? There are thousands of actors in Hollywood who need the work. Set him free," wrote Hal Boedeker, a columnist for the Orlando Sentinel.
Still, those experienced in working with child actors—Jones is 19 but has been on the show since its 2003 debut—say he's going through something typical.
"It's not really unusual at all for kids who have worked a long time to hit 18 and want to do something else," said Anne Henry, co-founder of BizParentz Foundation, a nonprofit advocacy group. "He's just not allowed to transition because he's held in a contract that was signed when he was still a minor."
Jones renewed his contract last May, bringing his salary to some $300,000 an episode.
Other young performers on successful TV series have openly rebelled against their public personas.
During her stint on "7th Heaven," a 17-year-old Jessica Biel became dissatisfied with her work and posed seminude in Gear magazine, a decision that prompted the show's producers to reduce her role in the family drama.
Peggy Becker, a manager who co-owns Parkside Talent, said it's up to Jones' representatives to help him transition. "It's the personal manager's job to help the kids transition, the family and the manager. And sometimes we fail," she said. "Sometimes we succeed."
Becker, who hasn't worked with Jones, said it appears the actor has lost his passion for performing. "If it's constantly work, work, work, you get burned out," she said. "We have seen that in children a lot.
"When it starts to become a chore for the child, it's time to find another avenue of inspiration."