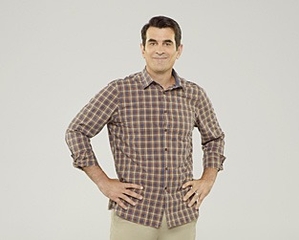 In case you missed the 20th annual SAG Awards Jan. 18, outstanding male actor in a comedy series winner Ty Burrell helpfully recapped his (fictional) guide to acting during his acceptance speech. In the same generous spirit, we wanted to share it with you as well.
"I know most of you out here tonight have read my book, 'Acting: How to Do It Good,'" Burrell said at the podium. "But I thought maybe for some of the younger actors out there watching TV, I would go just go back over my five simple steps for success:
1. Be born into a family that's never had an actor in it, that way they think everything you do is cooler than it actually is, thus giving you a false sense of confidence.
2. Use that false sense of confidence to woo and entrap a spouse who is better than you and is willing to overlook the fact that you have no apparent skill set other than being a needy extrovert.
3. Have no skill set other than being a needy extrovert.
4. Use that lack of skill to fail over and over and over again until you stumble into a job written by Chris Lloyd, Steve Levitan, and our entire writing staff. Also at that job make sure your co-workers are the cast of 'Modern Family.'
5. And number five be, um… Number five, uh, have kna— have a knack for memorizing."