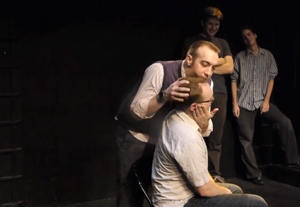 For less than the cost of a two-drink minimum, comedy fans can contribute to "On The Cusp, Off The Cuff," a feature-length documentary about the New York City improv comedy community.
Nate Dern
, an improv performer and artistic director of the Upright Citizens Brigade Theatre in New York, is asking for additional funds on
Kickstarter
in order to finish his independently produced film this spring. He is hoping to raise an additional $8,000 to complete the project and pay for music, animation, sound mixing, color correction, film festival submission fees, and promotional materials.
Dern, a former "Beauty and the Geek" contestant, is also currently a sociology PhD student at Columbia University. "About a year ago, I decided to combine my interests and make a sociological inquiry into the New York City improv community, a community I care about a whole lot, in the form of a documentary film," he says in a video on his Kickstarter campaign page.
The documentary will focus on three of the city's most notable long-form improv training centers—the UCB Theatre, the People's Improv Theater, and the Magnet Theater. Dern has already collected more than 60 hours of interviews, performances, and backstage footage, and intends to finish a 50- to 60-minute cut of the film by May 2012. ("I've got a screening scheduled in May, so I'd better be done by then," Dern says in the video.)
"My main goal is to give a small glimpse into what it is like to be a part of the growing world of long-form improv comedy in NYC," Dern wrote on his Kickstarter page, "Answering questions like: What is 'long-form improv' and how is it different from what I've seen on 'Whose Line Is It Anyway'? Why do people spend so much time and energy on an ephemeral art form that essentially disappears forever as soon as the show is over? Why do people speak so passionately about something that so often involves such silly subject matter on stage?"
For more information and to donate, visit the
Kickstarter page
for "On the Cusp, Off the Cuff." You can also watch a teaser trailer for the film below (with the working title "Improv Non-Stop"):