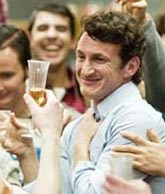 "It's all over the place and more erratic than it has been in years past," says Kristopher Tapley, editor of the film awards site InContention.com, of the front-runners for the Screen Actors Guild Award for best ensemble.
Sean Smith, Los Angeles bureau chief of Entertainment Weekly, believes the ensembles are smaller than they've been previously, "with two or three actors, not seven or eight. Even a picture like Milk that has a significant cast, there are only three or four central roles. The ensembles are intimate this year and they're quiet, contained, and controlled."
"In a true ensemble film, it's hard to pinpoint the stars," says Kevin Lally, executive editor of Film Journal International (a corporate sibling of Back Stage). "Last year there were some real ensembles, like No Country for Old Men. This year you have some films with strong casts, like Frost/Nixon, but essentially it's Frank Langella's show, supported by Michael Sheen." Lally also calls Milk a likely contender; the supporting cast of this biopic about gay activist Harvey Milk includes Emile Hirsch, "who is a lot of fun to watch, and James Franco is very solid, but it's still driven by Sean Penn."
Revolutionary Road will also probably be nominated, Lally says. Based on the Richard Yates novel and depicting a disintegrating suburban marriage in the 1950s, the film is headed by Leonardo DiCaprio and Kate Winslet, yet it also features winning performances by Kathy Bates, David Harbour, and especially Michael Shannon as a mentally ill man.
Pete Hammond, a film critic for Back Stage and a columnist for the Los Angeles Times' TheEnvelope.com, notes that Revolutionary Road's supporting cast consists entirely of theatre actors, resulting in an added layer of excellence. Shannon starred in the Off-Broadway production of Bug, Harbour in the most recent Broadway revival of Who's Afraid of Virginia Woolf?, Kathryn Hahn in Broadway's current Boeing-Boeing, and Bates in the original production of Frankie and Johnny in the Clair de Lune. Tapley also sees Revolutionary Road as a standout: "Every actor is on point in a movie that needs an ensemble powerhouse collective portrayal. Also, it's very much an actor's movie."
Another film on almost everyone's list is Doubt, starring Meryl Streep, Philip Seymour Hoffman, and Amy Adams and featuring a show-stopping scene with Viola Davis, "who is a lock-in for a best supporting actress nominee," says Smith. "It's a killer scene, probably the most powerful scene in the film." All agree the scene makes Doubt a front-runner, as does its pedigree as a Tony-winning Broadway play by John Patrick Shanley, who also directed the film and penned the screenplay. And its emotionally charged story of the alleged sexual abuse of a young boy by a priest is topical.
A film that none of the critics had seen but that has generated major buzz is The Curious Case of Benjamin Button, based on the F. Scott Fitzgerald story about a man who ages backward. Its high-powered cast, headed by Brad Pitt and Cate Blanchett — and including Taraji P. Henson in a talked-about performance as Benjamin's adopted mother — makes it a likely contender. Henson, who appeared in Hustle & Flow, will probably be a supporting actress nominee, the critics agree.
A smaller, independent film that may be tapped for best ensemble is The Visitor, featuring Richard Jenkins as a lonely professor disenfranchised from his own life until he encounters immigrant squatters in his apartment. Aside from the cast's fine acting, what makes this multicultural movie interesting, says Lally, "is that it made $10 million, which is very good for a small film. The word of mouth on it is exceptional. It just might sneak through." Some of the reviewers think Jenkins may be in the running for best actor and that Hiam Abbass, an Israeli-born Palestinian, may be tapped for best supporting actress, though they and the film are long shots because it was released early in the year.
Hammond adds Slumdog Millionaire to his list, in part because of its quirky, off-the-wall quality. It starts out like a gritty urban film but ends like a fairy tale, punctuated by a big musical number. The cast consists of unknown actors, many of Indian descent, which is likely to appeal to SAG members.
At the opposite end of the spectrum, several critics cite the crowd-pleasing Australia as a possible nominee. "It's a real old-fashioned throwback, like Gone With the Wind," says Hammond. "It has a wonderful ensemble of every great Australian actor, starting with Hugh Jackman and Nicole Kidman and going on down to Jack Thompson and Bryan Brown and the kid, Brandon Walters. It's a wonderful showcase for Aussies."
Though the most likely contenders are usually released at the end of the year, Hammond cites The Dark Knight, a summer popcorn movie, for its impressive cast and fine acting. "It's a true ensemble in a comic book kind of movie that grows increasingly dark and serious," he says, noting the work of Christian Bale, Michael Caine, Morgan Freeman, Maggie Gyllenhaal, Aaron Eckhart, and especially the late Heath Ledger as the Joker.
The critics suspect Ledger will be nominated in the supporting actor category; the chance to honor a well-liked and admired actor posthumously is an added emotional incentive. Tapley is a great champion of The Dark Knight for its "array of heroes and villains of different stripes," which he thinks will appeal to SAG voters.
Another Tapley favorite, though no one else mentions it, is Joel and Ethan Coen's Burn After Reading, an absurdist Beltway comedy. "It has a cute ensemble, and it's a complete change of direction for the Coen brothers after No Country for Old Men," he says. "It shows their versatility, and it's a possible in the ensemble category if enough people think it's a hoot."
He also likes Rachel Getting Married, "for all the obvious reasons," he says. He calls the multigenerational family drama "an ensemble's dream," with a drug-addicted daughter (Anne Hathaway) returning from rehab, a quietly resentful daughter (Rosemarie DeWitt) who is getting married, and a mother played by Debra Winger. Smith agrees wholeheartedly, citing the performances, specifically that of Hathaway, who "is getting all the ink and justifiably so. She's broken out of her own box and she's playing a character that's hard to root for. It's a nuanced performance. The rest of the cast...are really interesting too." The presence of Winger — making a comeback after a long self-imposed exile — is another plus.
A number of critics feel there are fewer potential nominees than usual due to the loss of many independent film companies, especially those affiliated with the major studios, and the fact that distributors are less willing to take a chance on smaller films, even those that did well on the festival circuit. Would a Little Miss Sunshine, which won the ensemble award two years ago, be released today? Nobody knows. But for Hammond, Little Miss Sunshine is the classic ensemble movie, because "all the actors had equal roles, the actors were interacting throughout, and they were working as a unit. That's why it was so well regarded by actors."
Write to the author at shorwitz@backstage.com.