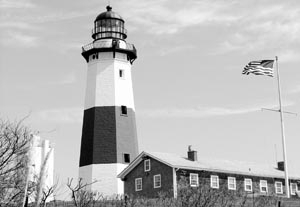 Long Island City used to be home to light industry: mostly bakeries and clothing manufacturers. And while diesel trucks continue to roar through the neighborhood's farther reaches, this section of Queens—hard by the East River and one subway stop from Manhattan—is now an odd mix of glassy high-rise condominiums and squat brick buildings.
"This neighborhood was really bustling during the day and a ghost town at night," says Brian Rogers, co-founder and artistic director of the Chocolate Factory, an Obie-winning theater there. Rogers and fellow co-founder Sheila Lewandowski moved to Long Island City 13 years ago, and in 2005 they turned their floating Theater Et Al into a performance space anchored in one of the most affordable neighborhoods in Queens.
As the Chocolate Factory was settling in, Long Island City was transforming. The once-desolate commercial strip along Vernon Boulevard now bursts with organic cafés and restaurants, and high-end housing is replacing the factories. The change is "like day and night," says Rogers, whose nonprofit experimental theater draws its audience largely from the surrounding neighborhoods in Queens and Brooklyn.
It's a familiar New York story: Actors and other artists on a quest for space and sanctuary settle in less-desirable locales that, five or 10 years later, become the next vein to be tapped by real estate speculators. According to the Oxford Journal of Economic Geography, artists have "a substantial direct relation with housing values" that is "positive and significant."
The downside is that after a neighborhood becomes the Next Big Thing, rents and home prices escalate to the point where artists can no longer afford to live there. Greenwich Village, SoHo, and Chelsea are among the most famous examples in Manhattan; Astoria in Queens and Williamsburg in Brooklyn followed suit. (Frustrations can be even more acute for those who lived in a neighborhood well before enterprising artists moved in; they may have less money and fewer options for relocating than the bobos, New York parlance for "bourgeois bohemians.")
Rogers and Lewandowski were lucky to buy their apartment and secure a 20-year lease for their theater before prices skyrocketed. Others aren't always as fortunate.
Finding a Home
Actors' need for affordable housing spurred the creation of the Housing Resource Center, a program of the Actors Fund coordinated by Lucy Vance Seligson, who performed on Broadway in "Miss Saigon" and the original production of "Les Misérables." From an 18-story marble building on Seventh Avenue near Times Square, Seligson's job now is to help her former peers.
She lives in Washington Heights, a Manhattan neighborhood she calls "great for artists," where the first Starbucks to hit the block was "the big thing." Seligson's first New York neighborhood, in the early 1990s, was Greenwich Village, a place she now considers unrealistic for most performers new to the city.
"People who are looking for affordable housing need to be open to living in different areas and thinking long-term," Seligson says. She also recommends that actors draft a sound budget, save enough money to cover several months of expenses, and "be open to other ways of earning income" before moving to the city.
In addition to editing the Actors Fund's annual guide to affordable housing, Seligson runs monthly seminars offering advice to anyone in the entertainment industry who needs it. The seminars focus mostly on placing people in the city's subsidized housing projects. Many new buildings are located in the South Bronx and Queens, and some cater to artists. The Brooklyn Ballet, for example, recently moved into Brooklyn's subsidized Schermerhorn House, half of whose 200-plus units are reserved for artists.
Though subsidized housing, which provides financial aid to low-income tenants, sounds great, getting selected for the interview process comes down to "being determined and hanging in there," says Seligson. Housing projects use a lottery to decide which potential tenants get intake interviews—and merely getting an interview can take years. The fund's seminars also address the issue of actors' erratic income, which can make landlords uneasy or unwilling to rent to performers.
From Hellish to Hot
Of the few affordable neighborhoods in Manhattan, Inwood and Washington Heights, located on the island's northern tip, boast a small but growing arts community. Actor Darcie Siciliano lived in Inwood until 2006. "When I moved in," she says, "the neighborhood was really diverse, really quiet, very much a neighborhood, although there weren't a lot of amenities—no cafés or restaurants, the bourgeois things we desire in New York."
Then "little art galleries started to pop up…and places to get different kinds of food," and eventually more families, she says. With that came a boost in real estate values, and Siciliano saw her rent rise. Seligson witnessed the same thing in Washington Heights. Still, the neighborhoods mostly remain a secret passed between friends—a community "out of the fray and the fluctuating craziness that is the entertainment industry in New York," says Siciliano.
But affordable Manhattan neighborhoods have been a dying breed for years, and SoHo is a case study in urban renewal and gentrification, with dozens of books describing its sweeping changes since the '70s. That's when the name, short for South of Houston Street, was coined. Until then, the neighborhood, home to numerous factory buildings, many made from cast iron, had a far less saleable nickname: Hell's Hundred Acres, earned for the area's frequent fires, including the infamous one at the Triangle Shirtwaist Factory in 1911 that killed nearly 150 garment workers.
By the 1960s, the large, cheap, former factory spaces were attracting artists, aided by self-interested landlords who turned a blind eye to the zoning laws of the time, which forbade people from living in the buildings. As the glamorized bohemian lifestyle caught the attention of real estate agents, wealthier residents began moving into loft apartments, bringing high-end stores and restaurants. In her book "Bohemians," Elizabeth Wilson called those early artists the "inadvertent shock troops of a property boom; the game was real estate, not art."
As Easy as ABC
Pushed out of SoHo and Chelsea, the artists' hunt for housing moved east into Alphabet City, where Richard Paul has lived since the early 1980s. A frequent guest star on "Law & Order" and its spinoffs, Paul says the neighborhood "used to be the badlands."
"I've seen things in Tompkins Square Park that have scarred me for life," he says, refusing to elaborate. Paul's first apartment in the area was on 10th Street and Avenue B, where he shared a one-bedroom with three other people. The total rent was $875.
Standing outside his wife's designer-clothing shop, Elliot Mann, Paul says the gutters used to be filled with glass, because junkies would break into cars to steal tape decks and other valuables they could sell for drugs. As he recounts the neighborhood's jagged past, his wife, Louisa, arrives with their son Nolan, who walks barefoot, lollipop in hand.
One block away is Performance Space 122, a theater founded in the early '80s, when the neighborhood was still dangerous. With his 18-month-old son, August, artistic director Vallejo Gantner strolls through the park, the site of riots in the early '90s, when protestors, enraged by the area's rapid gentrification, were forcibly evicted from a homeless encampment.
Gantner missed all of that, having moved to the city in 2005. Surveying the shady park where his son walks freely from couple to couple, he laments that most of the artists his theater works with don't live in the area, "so that sense of community is not here anymore."
The Water's Edge
For the past decade or so, Brooklyn has been the new destination for artists seeking space and affordability. The Brick Theater, located in Williamsburg, opened its doors in 2002 and has started to hit its stride, with ticket sales for its annual summer festival increasing by almost 30 percent, despite the recession.
The neighborhood's recent real estate boom saw apartments and condominiums average around $1,000 per square foot, when space in Manhattan was still selling for $800 per square foot, according to New York magazine. Williamsburg's proximity to Manhattan—and, like Long Island City, its waterfront location—helped fuel the boom, eventually pushing affordable living to other Brooklyn neighborhoods, such as Bushwick.
Ian W. Hall, the Brick's technical director, prefers Sheepshead Bay, a waterfront locale nearly an hour by subway from midtown Manhattan. "Williamsburg was talked about forever," he says, "before anything ever actually happened there." Before moving to Brooklyn, Hall lived in the basement of Todo Con Nada, a theater on Manhattan's Lower East Side, until it was priced out of the neighborhood and re-dressed as a swanky bar called the Dark Room.
In the late '90s, "in the space of about two years," Hall says, rents on the Lower East Side "went berserk and all the spaces got pushed out; a lot of the artists got pushed out." One of the results of the splintering of the art scene, according to Hall, was the New York International Fringe Festival, which began in 1997 during a particularly high time for the economy.
"We're in a very lucky neighborhood," says Michael Gardner, a co-founder of the Brick, "in that a lot of artists that frequent this type of theater live in this area and are being priced into Brooklyn from Manhattan." Many of the performers who work at the Brick also live nearby, he says.
The New Frontier?
The survival of small theaters and affordable housing could depend on something as simple as proximity to a subway stop or as complex as the recession and the sputtering housing market. Bushwick is continually mentioned as the new frontier, because it's only about 25 minutes from midtown Manhattan. So far, however, it lacks the many realtors that are a common sight in Williamsburg.
The Brick's neighborhood in Williamsburg still vibrates with a youthful creative energy, with bikes chained at every corner and young commuters emerging from the subway with Marc Jacobs shopping bags. "It's still burgeoning," says Gardner, "and I think it's something that continues to titillate people."