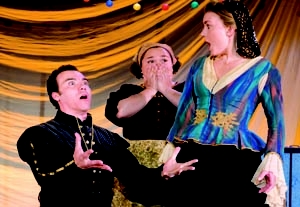 In the mid-1980s, when he was a young actor fresh out of college, Patrick Page would arrive for his regular summer gig in Cedar City, Utah, and join in the welcoming tradition for new arrivals at the Utah Shakespearean Festival.
In those days, actors would show up at the festival not knowing what roles they would be playing during the summer repertory season. So they would recite their monologues in front of all the directors, who would then go off and hash out which players would get plugged into which roles. Meanwhile, the actors would get in touch with their surroundings. First-timers would be taken, blindfolded, up to the panoramic view at Cedar Breaks National Monument, Southern Utah's answer to the Grand Canyon.
"They'd uncover your eyes and show you things you never imagined," recalls Page, who, after six seasons at the festival, has earned a successful career on Broadway and in regional theatres across the country. "The night before casting, you'd go up to Cedar Breaks, play volleyball, and get your mind off the auditions. Then you would go to sleep, and the next day you'd find out who you were playing."
"Sometimes you were really happy on that day, and some days you were pissed off," adds Carole Healey, who last year spent her 15th season at the Utah Shakespearean Festival—or Utah Shakes, as it is often called—and will return to direct
The Woman in Black
in the fall. "They would try to give everyone one decent role, one supporting role, and one smaller role. That was back when we were doing three plays."
Much has changed since the early days of the festival. It's two roles now, and players now know exactly what parts they'll be assigned before they arrive for the four-month commitment in Cedar City. During their exit interview with co–artistic director and casting director Kathleen Conlin at season's end, each gets to discuss possibilities—and hopes—for the following year's season.
As it progresses toward its 50th anniversary season in 2012, Utah Shakes has attracted bigger audiences and handed out substantially more Equity contracts. The company won the coveted Tony Award for outstanding regional theatre in 2000.
The breathtaking scenery hasn't changed. Cedar Breaks is still in close proximity, with Bryce Canyon, Zion National Park, and numerous outdoor activities a manageable car ride away. New Yorkers may miss the urban bustle, but it is the rare Utah Shakes actor who will not list the area's natural wonders as a draw. Even Las Vegas—offering different delights—is three hours by car and supplies the region's largest airport for those in need of a quick jaunt home.
Pure Heaven
,
Pure Work
Outside of perhaps Ashland's Oregon Shakespeare Festival, there may not be a purer Shakespeare-performing experience to be found in the United States, say festival veterans, many of whom return year after year. "A director friend of mine in college had worked at the festival, and I asked him whether he recommended it," says Marcella Rose Sciotto, a New York–based actor who returns for her fifth season at USF this summer. "He said working at Utah Shakes is like working in actor heaven. I adamantly agree. It's become my acting heaven."
"I remember my first season working with actors who had been back season after season—because Utah Shakes is a very loyal company and tends to hire repeat actors—I remember envying them and wishing I had an artistic home like they did," adds actor Mark Light-Orr. "Now eight years later, it's hard to believe, but I have that artistic home I wanted so badly when I was younger."
By the time the fall season has wrapped up in mid-October, Conlin has already begun thinking about the next season. Utah Shakes holds its Equity auditions in New York, Chicago, and Los Angeles. Conlin also makes regular trips to Ashland, as well as visits to training programs around the country in search of non-Equity players. Children, such as those needed for 2008's
Fiddler on the Roof
or this summer's
The Secret Garden
, will often be found locally.
Would-be company members eying a spot in the 2010 repertory are encouraged to send in their applications between July and October of this year. Regional auditions are by invitation only. Conlin typically completes her casting trips by January and has the summer lineup locked in by mid- to late March. By this time, festivalgoers and actors alike can start checking the USF website (appropriately located at www.bard.org) to read about the return of festival favorites.
And don't think that viewers aren't paying attention. The students of Southern Utah University may have fled for summer vacation—often renting out their apartments to company members—but devoted USF audiences pour into Cedar City. They come to the green show (the pre-play song, dance, and revelry performed in Elizabethan costumes), wear buttons proclaiming how many USF seasons they've attended, sign up for the Curtain Call lunches with company members, and will often corner a performer in a restaurant the following day to heap praise or debate character nuances.
"There is the sense that the community owns the theatre and, by extension, they kind of own you," says Light-Orr with a laugh. "If you go to New York, that's a pretty anonymous place to work, and it can be a little bit disconcerting. This community loves its theatre and feels like it belongs to them. I wish more communities felt that sense of ownership of their cultural institutions and artists who work there."
The Western Lifestyle
So if you're going to work at USF, be prepared for the attention. "It's a tradeoff, hard to swallow sometimes and very flattering at others," says Melinda Pfundstein, a veteran of 11 seasons. "Everyone is very friendly and it's nice, but sometimes you only have 45 minutes to catch lunch with your significant other, and you just want to sit."
She's hardly complaining. Pfundstein was still a psychology major at Southern Utah University when she stepped in to fill a role in
The Mikado
. That summer, she decided to change her path in school and became an actor. She met her husband, frequent USF leading player Brian Vaughn, at the festival. Now when they transplant from Milwaukee to Cedar City for four months, it's with baby and dog in tow.
"You have the challenge of working on two or three different things at once, so it really stretches you, and I don't think there's a more beautiful place in the country," says Pfundstein. "They bring in a good group of people, and you get to sit down for four months. That's a long time in this living-out-of-a-suitcase world."
If the environment and scenery of southern Utah don't draw actors, something about performing on the outdoor Adams Shakespearean stage is nothing short of magical. Modeled after the Elizabethan Globe Theatre of Shakespeare's era, the Adams' authenticity has attracted even the BBC to film part of its Shakespeare series there.
Page, who has performed in similarly modeled outdoor venues throughout the nation, says the Adams is unique in how it stacks the audience around the players. If you're playing a character given to soliloquies, you'd better be on your toes on that stage.
"You're coming out in daylight, and it's not going to get really dark for another hour and a half," says Page. "There they are, a wall of faces wearing bright summer colors. It would be a complete lie to ignore their existence—the falsest kind of acting to pretend they're not there. The inclusion of the audience is what I learned there.
"This sort of magical thing happens over the next three hours as the play goes on," Page continues. "The audience begins to go dark, and the lights come up more and more, and the relationship of the audience to the actor changes as the night goes on. The fantasy becomes more and more distilled, and the actors come into sharper focus."
A Mix of a Lineup
The 2009 roster features a mixture of newcomers and veterans. Pfundstein will be back to play Mistress Quickly and Queen Isabel in
Henry V
and Claire in
The Secret Garden
. Vaughn will play Henry V. Joyce Cohen, a well-known Salt Lake City–based actor, makes her USF debut playing Annie Nations in
Foxfire
and Mrs. Medlock in
The Secret Garden
. Festival vets David Ivers and Corliss Preston are back, as is Carol Linnea Johnson, fresh from the Las Vegas engagement of
Mamma Mia
!.
The six-play repertory lineup includes the hugely popular
Henry V, The Comedy of Errors
, and
As You Like It
, each to be performed on the outdoor Adams Shakespearean Theatre. Indoors at the Randall L. Jones Theatre, USF mounts
The Secret Garden, Foxfire
, and Noël Coward's bickering marriage comedy
Private Lives
.
After 48 years, USF has staged every play in the Bard's canon except the hybrid
The Two Noble Kinsmen
, "and we'll get to it one day," promises executive director R. Scott Phillips. The fest's audiences tend to prefer their Shakespeare performed traditionally, in doublets and hose. They're typically okay with the violence and gore of a
Macbeth
or even
Titus Andronicus
, but they're a little more sensitive to sexual innuendo. A frisky 2008 production of
The Taming of the Shrew
, updated to post–World War II Italy and performed indoors, didn't sit well with everyone, say company members and administrators. "I told the director to shake this play up a little bit, make sure in the retelling it still says something both about how people get along and what causes people to gravitate and fall in love," says Phillips. "There was a lot of updating. It was a risk."
Economics have factored into changes to USF's 2009 fall season, which runs Sept. 18–Oct. 17. While Stephen Mallatratt's ghostly two-handed mystery
The Woman in Black
remains, the previously announced productions of the musical
Pump Boys and Dinettes
and Shakespeare's
Pericles
have been scrapped in favor of
Tuesdays With Morrie
and
The Complete Works of William Shakespeare
(
Abridged
), a move that significantly reduces the number of actors and the production demands and will save the company more than $700,000.
Surviving the Summer
Fewer actors or not, the demands on performers are the same. To wow 'em in Cedar City—and earn an invitation back—actors should be well-schooled, know their text, and be prepared for a rigorous repertory schedule. Shrinking violets probably will not thrive. "We have two large spaces here, one of which is outdoors, so you need to have a large physical presence," says Conlin. "That and the musical part of it: People do have to cross over, so we're looking for actors who can sing."
And when you're going to be spending the summer performing in repertory in a college town with not a lot to do outside of the outdoors stuff, a certain company-minded spirit will also suit you well. "We're really building an intense ensemble, a company," says Conlin. "As much as possible, we're looking to find personalities whose attention is on the work as whole, not on individual achievement. We need a real sense of collaboration."
In that spirit, Healey has become as well-known for her vegetable gardens and elaborate themed dinner parties as she has for playing Lady Macbeth and Shrew's Kate. Yes, she's domestically inclined, but Healey says an environment like USF makes such activities ideal.
"I'm a great believer in breaking bread together—and that being together socially makes a stronger company and improves the work if we all have a chance to let our hair down and really talk about the plays in an informal and nonjudgmental kind of format," says Healey. "Young actors feel really exposed and a little bit intimidated by the process. So I've found that if you give somebody a glass of wine, light some candles, gather around, and chat and get to know each other, it makes everybody kind of open up and really be at their best."
Utah Shakes has an impressive list of well-known actors who graced the Cedar City stage before moving on to Broadway, TV, and film.
West Wing
Emmy winner Bradley Whitford is an alumnus, as are Benjamin Bratt, Paul Michael Glaser, and Harold Gould, who came to Utah Shakes to play Lear.
Then there was the kid from California who was all set to devote a summer to the fest in the mid-1970s, only to be called back to the coast when he was offered a leading role in a sci-fi movie. "Well, if we didn't hire any actors who had an opportunity to do a film, we'd never hire any actors," says Phillips. "But he did leave. That actor was named Mark Hamill."