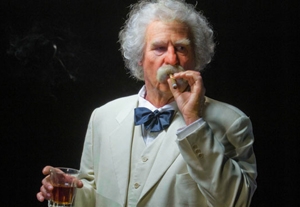 Sure, Val Kilmer says, some of his recent movie roles were more for the paycheck than the challenge. But now he hopes to jolt his career back to life with a one-man show about Mark Twain, "
Citizen Twain
." Comebacks are never easy - but they're never impossible, either.
Kilmer established himself as one of the best character actors of his generation with portrayals of Doors frontman Jim Morrison, legendary gunslinger Doc Holliday, and porn star John Holmes. But over the last five years, Kilmer admits, he neglected his acting career and focused instead on financing an expansion of his New Mexico ranch. "I was just paying rent," he
recently told The Huffington Post
. "I decided I'm going to sacrifice the integrity of my career for the integrity of this land for my kids. . . And now I'm back."
Enter Mark Twain. "Citizen Twain," which Kilmer wrote and directed, plays in the Masonic Lodge at the
Hollywood Forever Cemetery
. "Citizen Twain" begins with Kilmer, in the iconic white suit, with silver hair and rosy make-up, shuffling through the audience to a sparsely furnished stage. He whips through Twain's one-liners, tells stories from the writer's life, and plays both parts in an exchange between Huck Finn and the runaway slave Jim. It's part stand-up, part immersion monologue, which at one point has Kilmer climbing to the balcony to take the wheel of an imaginary steamship sailing down the Mississippi.
This isn't just a pet project meant to lift Kilmer's career from a rut of direct-to-DVD features, though. Kilmer, a Christian Scientist, addresses in the show a public feud between Twain and Mary Baker Eddy, the founder of the Church of Christ, Scientist.
"I've been writing a movie about Mark Twain and Mary Baker Eddy for seven, eight years now, whenever I had a break," he told the audience after the show on Easter Sunday. Billed as a workshop, the show ends with a Q&A session during which Kilmer invites audience feedback. The actor seems to be using the sessions as notes to perfect the screenplay. Production on the film, for which he's solicited donations online, should start next year, Kilmer said. If it's a success, Kilmer would become the latest actor to have turned his public image around through a unique one-man performance.
James Van Der Beek, for instance, used a Funny or Die short to shatter his "Dawson's Creek" good-guy image. He became the "
asshole for hire
" and offered up
www.jamesvandermemes
.com as a play on the GIF that showed him crying on a loop. Van Der Beek's comedic turn brought him back into view, and his new role on the ABC sitcom "
Don't Trust the B---- in Apt. 23
" essentially reprises his Funny or Die character.
Kilmer's route is more traditional, but it too has led to success for other actors. After losing guest spots on TV cop shows 20 years ago, Chazz Palminteri wrote and acted in a one-man play he debuted in Los Angeles. After a successful run, he took it to New York City where Robert De Niro saw a performance and subsequently helped transform it into the 1993 film "A Bronx Tale," in which the two co-starred. Palminteri's subsequent hot streak took him to roles in Woody Allen's "Bullets over Broadway" and "The Usual Suspects."
Would Kilmer be willing to follow in Palminteri's footsteps and take his own sold-out one-man show to New York? "That would be a real dream,"
he told the Wall Street Journal
.