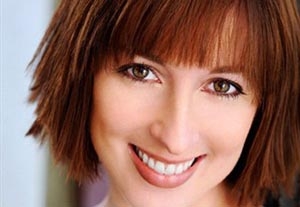 "Who am I anyway? Am I my résumé?" That lyric from "
A Chorus Line
" always haunted me as an actor. I feel like I've always been searching for my "type," and that's part of the reason I've somehow perplexed both casting directors and agents. Breakdowns usually sort themselves into easy boxes: Girl next door? Leading woman? Punk rock girl? Oddly, at one point or another I've been all of these things. My demo reel looks absolutely schizophrenic. It shows me as everything from a rocker chick to a pregnant lesbian to a famous lounge singer from the '60s. I'd like to say there's a part of me that's all these things. I can see why casting directors would be confused.
So the answer to the "Chorus Line" question is no. I am not my résumé. Hi, I'm Vanessa Claire Stewart, and I hate auditioning. There, I said it. Socrates says "Know thyself," and I do. I'm no good at fashioning a character over the course of a day and bringing it in to a total stranger, then pretending that a CD's office is really a romantic setting, or whatever the premise is. I know that I naturally have anxiety and sometimes have to have a cocktail before an audition to calm my nerves. I know that I'm a good actor, but only after I've lived in the shoes of my character for a couple of weeks. So how have I been able to get jobs in this town?
Looking at my résumé, I mathematically deduced that 75 percent of my work has come from people who have cast me before or known my work, or it was me creating my own job. It was quite a different feeling coming into a CD's office when he or she saw me in the role I wrote for myself. The tables had turned from me thanking him or her for the favor to the CD thanking me for coming in. The show business idiom that I keep hearing is, It takes a person six months or 10 years to "make it." My roommate from Oxford made it in six months because she knew exactly what box she fit in and could work a room. And of course, without trying to be on the 10-year plan, I was. But only after I figured how it was going to have to work for me. I had to be the best "me" I could be to wrap my head around playing other people.
And right now, I'm learning more about my process by watching other actors go through their own. We have a brilliant cast for my next play, "Stoneface: The Rise and Fall and Rise of Buster Keaton," starring my husband French Stewart as Buster Keaton. It's a very helpful thing in the life of an actor to just sit back and observe sometimes. We can learn so much.