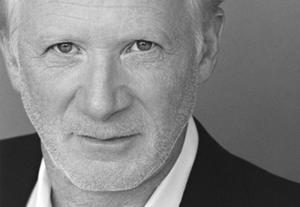 Recounting his experiences in summer stock, Conrad John Schuck is almost elegiac.His memories evoke images right out of a Judy Garland–Mickey Rooney film in which the kids decide to put on a show in a barn. The living conditions were rugged, the money negligible at best, but boy did they have fun. Ten shows in 11 weeks and the opportunity to tackle a range of roles they wouldn't have the chance to play for another 30 years. And, man, were there characters—from eccentric directors to the summer-stock entrepreneurs, who ran their companies like little fiefdoms and always dressed the part. One was clad in a tuxedo, while another toted "what looked like a 4-foot cigar." Schuck also remembers a borderline-psychotic actor who was off her meds and appeared in the producer's office stark naked, proclaiming that she was a Blackfoot Indian princess.
Conrad John Schuck

A veteran actor whose credits include Broadway, film, and television, Schuck has little doubt that summer stock played a major role in his career. Though Schuck still performs in summer theater productions, the early years had the most lasting impact.
His first experience was at the Denison University Theatre in Granville, Ohio, an on-campus theater providing students with the chance to try their hand at everything from musicals to classics. Occasionally guest actors were brought in, but for the most part the cast was exclusively college kids. Besides acting they also worked on the crew, mastering the fundamentals of sets, costumes, and props. By the time Schuck graduated from Denison University with a theater major, he knew something about the way a theater functioned, had performed in 50 to 60 shows, and was competitive in the professional world, he says. "In the summer theater we learned to do homework, be on time, have manners, and not be afraid to ask questions," he says. "It was a great primer."
But most relevant, he earned his Equity card. He describes starring as El Gallo in a production of "The Fantasticks" at Denison, where K. Elmo Lowe, the managing director of the Cleveland Play House, saw him perform. Lowe was so impressed, he invited Schuck to repeat the role in Cleveland and become a member of the company for the 1962–63 season. In the interim, Schuck played Walt Dreary in "The Threepenny Opera" at the Woodstock Playhouse in upstate New York. When that production was extended two weeks, Schuck had the moxie to say he'd stay if he got his Equity card, and his strategy worked. By the time he arrived in Cleveland, "I was an Equity member," he recalls, laughing. "My salary was bumped up to $62.50 a week."
Later, as a young professional he performed for three summers at the Cleveland Musicarnival, where he learned projection, among other skills. Housed in a tent, the theater-in-the-round sat 2,000, he recalls. In another summer-stock stint, he toured for 10 weeks throughout the Northeast and Chicago with the great comic Imogene Coca in Howard Teichman's "A Rainy Day in Newark."
Since that time, he has gone on to appear in a host of films, including Robert Altman's "MASH," "Brewster McCloud," and "McCabe & Mrs. Miller," as well as in recurring roles on TV, from "Law & Order: Special Victims Unit" to "St. Elsewhere" all the way back to "McMillan & Wife," starring Rock Hudson. On Broadway, he has starred as Daddy Warbucks in "Annie" and Buffalo Bill in "Annie Get Your Gun."
Learning Curve
Lee Roy Reams

The Tony-nominated Lee Roy Reams, who has appeared in 10 Broadway musicals and dozens of regional productions, also recalls receiving his Equity card at an early age, compliments of summer stock. Indeed, he was between his freshman and sophomore years at the University of Cincinnati's College-Conservatory of Music when he performed with the James Alex Summer Theatre in Dayton, Ohio, thus scoring his union membership.
Like Schuck, Reams valued summer stock for offering him the chance to appear in many productions, viewing the quick turnover as training him to think fast on his feet. He also gained an appreciation of all the roles played by onstage and backstage personnel. "You lived theater," he says. "And there was that wonderful camaraderie."
The high point for Reams was the opportunity to meet and mingle with the stars who were routinely brought in to the productions. He worked with such mega-talents as Dorothy Dandridge, Dorothy Collins, Rita Moreno, Jane Powell, and Patricia Morrison, among others. The glitz and glamour aside, they offered object lessons in professionalism, he says. By example, they taught the value of a solid work ethic and were also a wealth of information about the New York stage. Reams continues to perform in summer theaters, most recently at MUNY in St. Louis, where he and Schuck played the comic gangsters in "Kiss Me, Kate."
Don Most came to summer stock later in life. His first encounter occurred when he was already an established actor, best known for his nine-year gig as the merry prankster Ralph Malph in the hit sitcom "Happy Days." Indeed, in 1978 when he performed at Lakewood Theater in Madison, Maine, he had been entering America's living room for four years.
Still, he was starstruck by the theater's storied history. It is one of the oldest in America, and "everyone from silent screen stars to Broadway stars performed there," he says, impressed even in retrospect. "I appeared in 'Barefoot in the Park' with Maureen O'Sullivan. It was a wonderful, idyllic experience. It was a theater on a lake with a diner across the street. We'd go there before the show, and after the show we'd go to a nightclub. We were living in cabins in the woods." Most tackled summer theater two more times, including a stint at the Westport Country Playhouse in Westport, Conn., appearing in a production of David Wiltse's "Doubles" that co-starred George Maharis and David Groh.
Interestingly, summer stock was Most's first professional stage experience, though in many ways performing in a weekly sitcom in front of a live studio audience was similar, he says. But stock offered him the chance to play roles he never would have landed. It also served as a welcome relief from the grind of TV during his hiatus.
In the years that have passed, Most has branched out into directing indie films, though he never regrets his summer-stock experience. He continues to believe theater is the purest form of acting.
Then and Now
The three actors agree that the heady experience they enjoyed may not be as intense today. When they were launching careers, acting conservatories and professional theater training at the college level was not as commonplace or all-encompassing as it is today. In many ways, summer stock filled that gap. By contrast, young actors today may start out with lots of training to their credit. Nevertheless, our veteran actors maintain that the stock experience is still invaluable if you come to it with a receptive mind.
Reams is concerned that unlike his cohorts, who viewed themselves as innocents when they entered summer stock, some current newbie actors believe they're already professional and have all the answers. Further, they're thinking about monetary gain and their futures as television stars, all of which is counterproductive.
"You never know who you'll meet or how you'll grow artistically," he says. "You learn by doing. Pay attention to how things work for good and bad. Learn to work with other people and have patience with your own work. Be creative and enjoy the experience." He pauses to emphasize how important it is to be likable, and if you don't have anything pleasant to say, "shut up!" he says. "If you get a bad reputation, it travels with you."
"It's a dues-paying time," Schuck suggests. "Find a way to make it work. Eating peanut butter–and–jelly sandwiches and sleeping on mattresses on the floor won't kill you. But performing in summer stock will give you the chance to immerse yourself in theater 24-7. We went into the theater because we loved the theater. Our goal was to be as good as we could be. Summer stock, with its limited time, limited finances, love, and enthusiasm, created an energy you don't see on the professional stage. It was a win-win situation."