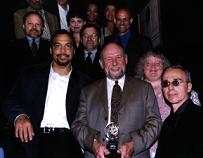 An appreciative crowd of Victory Gardens Theatre subscribers and friends sipped wine in the Tiffany-domed Chicago Cultural Center on the evening of June 28, basking in the glimmer of the Tony Award held by the beloved Artistic Director Dennis Zacek. The evening, hosted by Chicago news celebrity Bill Kurtis, featured a live recreation of the Tony ceremony, many hugs and kisses, tributes to supporters, and enthusiastic applause for the ensemble of 12 diligent playwrights who embody the mission of Victory Gardens.
The Tony, annually given to a theatre that has displayed a continuous level of artistic achievement contributing to the growth of theatre nationally, came with a $25,000 grant from Clairol's Nice'n Easy. The grant will be used to expand the playwrights' visibility by establishing a series of new play readings in New York. "This will allow us to more aggressively expose the work of our playwrights to other theatres and commercial producers," stated Robert Alpaugh, Victory Gardens' Director of Institutional Advancement.
In an announcement that caused an explosion of excitement, Zacek made known a plan that gives Victory Gardens the right to purchase the Biograph Theatre, famed for the FBI gunning down of John Dillinger in 1934, within six months, contingent upon meeting artistic, architectural, and financial criteria. "As we look to the future, the management of the theatre and the board of directors feel that the time has come for us to offer the same physical advantages to our writers that is afforded by any great theatre," said Zacek.
Noticeably absent from the festivities was actress Julie Harris, who suffered a minor stroke on May 26, during the run of Claudia Allen's "Fossils." Harris, who has won five Tony Awards (more than any other actor), is now recuperating in Spaulding Rehab Hospital in Boston.