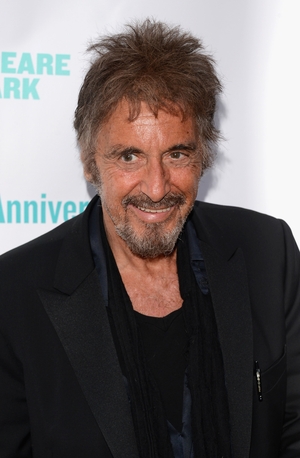 Al Pacino says he's "crazier" than other Hollywood actors for returning to Broadway.
"I started on stage," the acting icon said at a press conference for Broadway's "Glengarry Glen Ross." "I see no reason why I would ever not do it again."
The upcoming revival of the David Mamet play, scheduled to open Nov. 11 at the Schoenfeld Theater, marks the 30th anniversary of its first Broadway production. Pacino will play aging real estate mogul Shelley Levine alongside Bobby Cannavale (as Ricky Roma, the role Pacino played in the 1995 film), David Harbour, Jeremy Shamos, Richard Schiff, and John C. McGinley. Daniel Sullivan directs.
"It's a joy to be on Broadway," Pacino added. "It's a joy to be on any stage anywhere, but Broadway in particular. It's my home. It's where I started and it's where I had my debut, where my life changed...It was being seen onstage that I got the attention of certain filmmakers.Then it was the films in turn that helped me be able to go back to Broadway...So I have a love of both, but it's a particular love of the theater."
Watch the video below to hear more of what the cast has to say about the production.
(Filmed by Matt Pokorny for Backstage.com)