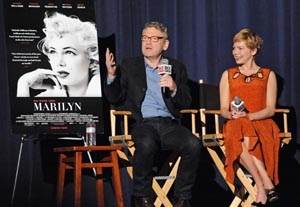 Fresh off SAG Award and Golden Globe nominations for their work in "My Week With Marilyn," actors Michelle Williams and Kenneth Branagh spoke to Back Stage and SAG Foundation readers following a screening of the film Jan. 6. It chronicles the making of the movie "The Prince and the Showgirl," with Branagh playing actor-director Laurence Olivier and Williams taking on the role of the iconic Marilyn Monroe.
Williams revealed that director Simon Curtis offered her the part without an audition, but she actually wanted to audition. "It's a funny thing. I remember waiting for the day when I wouldn't have to audition over and over again," Williams said. "But I wanted to know that I could do it, and I wanted somebody else to tell me with an empirical understanding that I could in fact do it."
As it turned out, due to time and scheduling constraints, she never did formally audition, but it's clear from the rave reviews that Williams is perfect for the role. In fact, the audience not only gave both actors standing ovations when they were announced, but also gave the event a standing ovation when it was over.