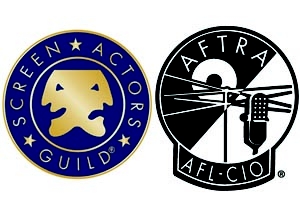 In a video message posted on Friday, actress Valerie Harper addressed an important issue within the proposed merger between the Screen Actors Guild and the American Federation of Television and Radio Artists. "I know you want your acting income to be combined for pension and health benefits," Harper said to actors. "That's what I want, not having our earnings split between two unions."

While this may sound like a show of support, Harper is one of a vocal minority of anti-merger SAG members who have expressed their demands for a more complete picture of how the plan will affect their health benefits, pensions, and overall bargaining power before voting in favor. At least 60 percent approval is required to ratify the deal. Ballots and information packets were sent to SAG and AFTRA members in late February and are due by March 30.

Harper and other high-profile actors—including Martin Sheen, Ed Asner, and Ed Harris—filed a lawsuit in Los Angeles federal court last month to prevent SAG from calling the issue to a vote. They claim that the SAG board neglected its duties to conduct an impact study about the potential effects of the proposed merger on members' health and pension benefits, and therefore are demanding that ballots not be counted until the union conducts an actuarial study. Since early February, at least five protests of about 25 to 50 picketers have been held in front of SAG and AFTRA's headquarters in LA, including one last Thursday.

"Opponents seem to ignore the obvious," SAG 1st National Vice President Ned Vaughn told Back Stage in response to Harper's comments. "Keeping SAG and AFTRA divided has had a terrible impact on our benefits and members' ability to qualify for them. Merger fixes that by removing the main obstacle to creating a single plan and, more importantly, by increasing our bargaining strength, which is the source of our benefits in the first place." He added that the current leadership of both SAG and AFTRA was elected after campaigning on a platform built on merger, a plan he says was developed with input from union members for over a year.

The opponents remain in the minority. Michael J. Fox is the latest big name to show his support for the merger, in a video that was posted to SAGAFTRA.org on Monday. He said that he realized the need for SAG and AFTRA to combine their strength early in his career because income from his film work and television work were contributing to two separate benefit plans.

"Because I have a medical situation, I depend on my benefits and my plan," Fox said in the video, "and I found out that I wasn't contributing to that plan with the work that I was doing. The union is so much more than just a piece of paper we fill out or a contribution we make every time we work. It's being part of something bigger and more powerful. The idea of a merger is common sense to me."

Other vocal supporters include Alec Baldwin, Octavia Spencer, Tom Hanks, George Clooney, and many more. The casts of primetime shows such as "The Office" and "Modern Family" and soap operas like "Days of Our Lives," "The Bold and the Beautiful," and "The Young and the Restless" have all recorded pro-merger messages, which can be viewed on the SAG-AFTRA website.

For more information about the SAG-AFTRA merger plan and to view a schedule of upcoming informational meetings in your area, visit www.SAGAFTRA.org.