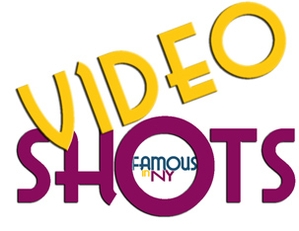 When a composer asked Shoshana Feinstein, founder of videography company Famous in NY, if she knew of any singers for a music video, Feinstein sent him YouTube clips of two singers that she shot at concerts.
Both performers were hired.
Feinstein recognized that there are many talented actors who may not have performed in concerts but still need high-quality videos of their work, and thus, Videoshots was born. The new program essentially creates "video headshots" for musical theater actors to showcase their vocal performance talents.
For Feinstein, who founded Famous in NY in 2008, starting Videoshots was the natural next step. Performers often ask Feinstein, who knows many producers and casting directors, "How can I get on YouTube if I'm not performing in concert?"
Casting Director Michael Cassara told Feinstein the following, as she recounts: "In this fast-moving digital age, a web video presence is absolutely imperative. An actor without an online video presence is less likely to work as much as one who is well-represented by online video footage."
That's when Feinstein saw the opportunity to get singers, dancers, composers, and actors online.
"My main focus is for people who have no YouTube presence at all. I mention somebody's name and nobody's heard of them, which is normal for 90 percent of actors," said Feinstein. "I don't think people realize quite yet how essential having a well-shot video is on YouTube."
Feinstein decided that the shoot would be completely left in the hands of the artist. The singer gets to select the piece they perform, how many takes, and which takes they feel are the best for the clip.
"Choose your songs, bring your music, and come looking cute, that's what we tell everyone," said Feinstein.
Famous in NY provides the accompanist – though the actor is welcome to bring their own – and the shoot takes place in midtown at the 45th Street Theater.
"We want to mimic a concert look," she said. "We don't necessarily want that stark white rehearsal feel."
Once the video is finished and edited, Feinstein adds video tags featuring any information the performer wants, such as a Twitter handle, website address, and contact information. The video is then put on the company's YouTube channel, Facebook account, and Twitter page. Famous in NY also provides a personal email address with the "famousinny.com" domain for each performer.
"This is actually something that is going to further your career; it's going to get your name out there, it's going to get you cast in things," said Feinstein. "I want to help these people get out there. If I know that someone got a job based on something that I helped them get out, that's amazing to me."
Famous in NY offers two standard packages for Videoshots
For $200, the performer receives 30 minutes of recording time, which is usually one or two songs. Although the artist can do as many takes as necessary, Feinstein encourages at least two good takes for the clip.
For $350, the performer receives one hour of recording time at the theater, which is generally three or four songs. Each package comes with an accompanist, but any performer is allowed to bring their own.
For the month of March, Famous in NY is offering a $25 discount to any performer who follows the company on Twitter.
Check out two examples below!