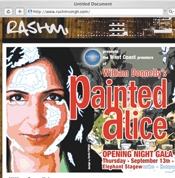 With its vast promotional possibilities, the Internet seems to have been tailor-made for someone like Jon Monastero. With training in improv, commedia dell'arte, and classical acting, the Los Angeles-based actor-writer-clown cannot be easily appreciated from mere words on a résumé. And that's where talent and the Internet perfectly collide. Set your Web browser to www.tenwest.net, and you'll find the website of the comedy duo Ten West, featuring Monastero and his acting partner, Stephen Simon. The video clips on the site offer a taste of their act, reminiscent of classic vaudeville routines; the duo's MySpace page (www.myspace.com/tenwestcomedy) features performance dates and press clippings. "We've found having the website really useful to explain who we are and what we do," says Monastero, noting that Ten West cross-promotes its Web presence on all its printed materials, such as business cards and post cards. "When we hand those out at a show, we can actually track how many hits we get back on the site."
New York-based audio-book actor Barbara Rosenblat has gotten more than a few job offers from employers who have found her website, www.barbararosenblat.com. Site visitors can listen to a sampling of the native New Yorker's work, which ranges from a wacky collection of Londoners in Bridget Jones's Diary to a witty batch of ladies from all parts of the globe in the The Yada Yada Prayer Group. "I love having the site, and I've gotten work from it," says Rosenblat, who appeared on Broadway last season in the revival of Talk Radio with Liev Schreiber. The website also lets Rosenblat point out things that are tricky to bring up in a casual conversation without sounding like bragging: She has won 17 Golden Earphone Awards for exceptional recordings from AudioFile magazine, and an Audie from the Audio Publishers Association -- the equivalent of the Oscar in the audio-book world.
A Page of One's Own
According to Scott Fish -- manager and partner at Freeze Frame Entertainment, a management and production company founded by casting director Lamese Williams and agent Renee Panichelli -- being accessible on the Internet isn't optional. "It's part of doing business today," Fish says.
Although his clients work regularly in guest-starring roles on episodic television, Fish is most interested in building long-term film careers for people such as Travis Van Winkle, last seen in Transformers. At Fish's urging, Van Winkle set up a MySpace page and a personal website (www.travisvw.com) that keep fans up to date on the actor's work: Van Winkle recently finished shooting the features Meet the Spartans and Asylum.
As manager, Fish oversees the design of his clients' websites and keeps close tabs on their Web presences: For example, he made sure several fake "official" Van Winkle MySpace pages were shut down. But not everyone has an agent or manager to handle the details of their online lives. Fortunately, having a Web presence doesn't require that. It also doesn't require a vast knowledge of HTML (the predominant coding language of the Web) or deep pockets.
The first, inexpensive step is to buy your domain name (mine, for example, is www.paulhaber.com), something Fish advises every actor do. Look to companies like Yahoo! Domains (domains.yahoo.com), Register.com, or GoDaddy.com. Many domain-registration sites also offer inexpensive Web-hosting services. GoDaddy, for example, charges as little as $2.80 a month for 36 months, including 5 gigabytes of storage space. Once you own your domain name, you can set it up so that visitors who type it in are directed anywhere you want: to a website you built or to any other Web page, such as your MySpace or Facebook profile, that features your video, pictures, and information about your latest project.
Actor-singer-songwriter Rashmi Singh (www.rashmisingh.com) has set up her domain name to point viewers to her website. "I use the same basic design I created with [website-building program] Dreamweaver...and just change the information on it to promote whatever I'm doing at the time," says the Los Angeles-based Singh, who is about to begin work on a Web series, The Untitled Case Files, a comedy in the film-noir style.
For her career as a singer-songwriter, however, Singh finds a separate MySpace page a promotional necessity. "I use MySpace for my music," she says. "I can send out a bulletin from there, and that hits everyone who's a friend on my page to let them know about my next gig." That immediate connection with friends and fans is one of the reasons artists participate in social-networking sites such as MySpace -- which are usually free and easy to set up and customize -- in addition to their websites.
For something even more personalized, iWeb software is ideal for Mac-using actors. Simple to use, it's part of Apple's iLife software, pre-installed on new Macs or available for purchase for $79. Apple stores offer free classes on how to use it; a one-hour iWeb class covers just about everything a new user needs to know to make a personal website. For PC users, CoffeeCup.com offers a similar site-building program at around $50. Or PC users can download the Web-authoring system Nvu (www.nvu.com) for free. Designed for people without advanced website-making skills, CoffeeCup and Nvu offer basic, attractive, ready-to-go website templates.
Although some actors go all out with very flashy and expensive sites, few pros think this is necessary. "I really prefer MySpace or a simple website -- no splash page, no Flash animation," Fish says. "I want to look at one page and see all the basics: pictures, credits, and some video if they have it. The fewer clicks the better."
If building and/or designing a Web page is more than you're ready to do, you can find actor-focused sites that charge a small fee for hosting your pictures, résumé, and video. BackStage.com offers a one-stop shop for those with a print or online subscription (online-only is $135 annually or $12.95 per month). Users can post pictures, résumés, and reels, as well as read casting notices and submit to projects. They can send links to their pages to anyone -- casting directors, managers, agents, producers.
Earlier this year, the Screen Actors Guild unveiled its first such online service, iActor, on www.sag.org. SAG members can add their résumés and headshots to iActor's database, which casting directors can search by gender, ethnicity, physical characteristics, skills, talents, and credits. ActorsAccess.com, an affiliate of Breakdown Services, hosts members' pictures and résumés, plus reels for an additional one-time fee of $50 for a minute of video and $22 for each additional minute; new members can post five minutes for $100. Actors can also submit for projects from the site. The Academy Players Directory (www.playersdirectory.com) is a great place to post pictures and résumés, because many casting professionals are already familiar with the long-established service. Actors who register and upload electronically pay $60; it's $75 to register in person or by mail. In both cases actors are featured in the print and online editions. The website also offers reel hosting.
Reels are important: Most agents and managers want to know if a potential client has one. This is often a major challenge for actors new to the business or fresh out of school. With a digital video camera and basic editing skills, anyone can put together a showcase. However, self-produced projects with thin production values and amateurish camera work are more likely to repel agents than entice them. "I would try to get into a short film," advises Barney Oldfield, a theatrical manager and producer with offices in New York and Los Angeles. "There are so many good film schools, and their young directors are churning out some really good films; they're perfect for a demo reel."
Companies that shoot scenes for demo reels have sprouted up in the past decade; if you're going this route, choose a company based on the quality of its footage. Catherine Gray, a partner in ShowBizShorts.com, creates shorts with feature-film production values. The company has a division specifically for actors, ActorShorts.com. "Young actors typically have no product to take with them after they get out of school, so we've been putting together actors with wonderful directors right out of film school," says Gray. Her company also helps distribute the actors' work using the Internet, mobile devices, theatre screenings, local TV shows, and film festivals and sends emails to agents. "It's not just about having a great product," she says. "It's getting the product out there."
Get on the Buzz
There are many ways to promote oneself, but the goal is to create buzz, a word Oldfield uses when discussing his clients -- like Brandon Ruckdashel (www.brandonruckdashel.com), who splits time between Los Angeles and New York. "We're trying to create buzz for him, and that translates into bookings," says Oldfield, who, like Fish, encourages his actors to maintain a personal website and a MySpace page.
"With Brandon, basic things like building up a mailing list is incredibly helpful to bring people into a theatre," says Oldfield. "That's what a producer is looking for: someone who can fill seats." Ruckdashel's mailing list now tops 5,000. Using ACT! -- or any email program such as Microsoft Outlook or Apple's Mail -- the actor and his manager are able to target mailings to specific groups.
Of course, buzz doesn't happen only on the coasts. Chicago-based actor-singer Stephen Wallem uses his site (www.stephenwallem.com) to promote his cabaret acts. "My agents love it, love the sense of humor on the site, and love having another source to send people to who don't know me," says Wallem, who will soon make his Broadway debut in the English-language premiere of the Swedish musical Kristina. His site offers performance dates, reviews, and audio clips of his singing.
Although projects can become overnight sensations on sites such as YouTube, most video-sharing sites aren't necessarily geared toward showcasing talent. OurStage.com eschews videos of dogs chasing their tails in favor of quality music and theatrical videos, which are screened in a contest format. Top prizewinners, decided by the site's users, receive $5,000, plus a bit of renown. Actor-filmmaker Rod Maxwell submitted a behind-the-scenes featurette on his short film The Wishing Well (www.thewishingwellmovie.com) in the trailer category; it hit the No. 1 spot in its category in October and became a fan favorite. "The feedback's been incredible, and it's a different kind of exposure from the film-festival circuit," says Maxwell. The film has nabbed top honors in a dozen festivals in the United States and internationally.
For Maxwell, it's about visibility. "When someone Googles [me or] my film, they'll see some film-festival wins, my website, and now my [spot] on OurStage comes up near the top of the search," says Maxwell, who in addition to playing all 26 characters shot the entire film against a tiny green-screen backdrop in a corner of his living room. "I'm getting a whole new audience who appreciate my work in a way the film-festival audiences didn't, since they couldn't see the making-of. It's very satisfying."
Paul Haber can be reached at editorpaul@gmail.com.