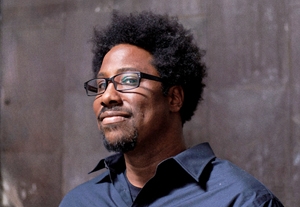 Standup comedian W. Kamau Bell has cultivated a following in the San Francisco Bay Area over the past 15 years, and more recently began attracting attention for his ever-evolving one-man show, "The W. Kamau Bell Curve: Ending Racism in About an Hour." The show has earned international acclaim for addressing issues of racism, bigotry, and inequality head-on in a hilarious yet thought-provoking way. Even Chris Rock is a fan, serving as executive producer for Bell's new weekly late night show "Totally Biased," which was inspired by the "Bell Curve" and debuted on Thursday on FX.

Bell began performing "The W. Kamau Bell Curve" in the Bay Area about five years ago and has since taken the show to cities and colleges across America, as well as stops at the New York Comedy Festival, the soloNOVA Festival, the Moontower Comedy Festival, the Edinburgh Fringe Festival, and the New York International Fringe Festival.

But the show's genesis was mostly accidental, thanks to the comedian's exposure to the Bay Area's thriving theater scene.

"I saw a lot of solo performances, because solo performance is to San Francisco what punk rock was to New York in the '70s," Bell says. "You will stumble across it eventually." But he noticed that most of the one-person shows he saw involved "a sad story being told sadly," he says. "I always felt like, there's no challenge in that. You can tell a sad story poorly and get people to connect with it just because they feel bad for you. What about telling a sad story and making people laugh?"

Bell co-founded the Solo Performance Workshop with his friend Bruce Pachtman in San Francisco about five years ago. Pachtman had asked for Bell's help on his own show, then recommended his services to other performers. Directing solo shows was initially just a way for Bell to supplement his standup earnings, but Pachtman eventually encouraged him to start teaching group classes on his own and they opened the Solo Performance Workshop, where he later was inspired to develop "The W. Kamau Bell Curve."

The Solo Performance Workshop tends to produce autobiographical pieces and has already sent three shows to the New York International Fringe Festival. "I Heart Hamas" came out of the Workshop in 2008, followed by "The W. Kamau Bell Curve" in 2009 and "All Atheists Are Muslim" in 2011. This year, two more Solo Performance Workshop projects will be appearing at the Fringe: Thao P. Nguyen's "Fortunate Daughter," about a Vietnamese woman who is hiding her homosexuality from her family, and Lisa Marie Rollins' "Ungrateful Daughter," described as "one black girl's story of being adopted into a white family who aren't celebrities."

Bell is taking a hiatus from the program while he's relocated to New York for production of "Totally Biased." Martha Rynberg, a former student and the director of "The W. Kamau Bell Curve," has taken the helm in his absence.

"I'm happy that it's growing without me," he says. "If I'd spent all that time doing it and it died when I stepped away from it, that would have felt depressing." He hopes to continue to build a community of artists around the Solo Performance Workshop.

"One day, if everything goes well," Bell muses, "I would own a theater, and I would teach and do solo performance shows. The UCB model is really intriguing to me. I want to do more with that. I love solo performance."

Read more about W. Kamau Bell and "Totally Biased" online at Backstage.com.