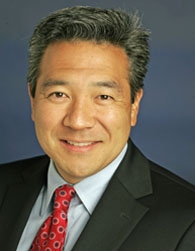 News that Kevin Tsujihara would become the next chief executive of Warner Bros. Entertainment has left some industry observers questioning whether his elevation could mean fallout for current projects underway at the studio.
There's inevitably a change of focus at a studio after a leadership shuffle and the move at Warner comes in the middle of pilot season, when its television arm is busy filling orders. Warner, a studio famous for its stability, insisted the leadership change would be handled seamlessly.
In its statement announcing the appointment, the company said that over the next several months outgoing Warner Bros. Chairman and CEO Barry Meyer and Tsujihara "will work together with other members of Warner Bros. senior executive team, including Warner Bros. Television President Bruce Rosenblum and Warner Bros. Pictures President Jeff Robinov, to ensure an orderly transition." Both executives named were Tsujihara's rivals to succeed Meyer, who will step down as CEO beginning in March but remain on as chairman through 2013.
Rosenblum in particular is reported to have had a contentious relationship with Tsujihara, who has been president of Warner Bros. Home Entertainment Group since 2005. After losing out on the top spot, Rosenblum said in a statement: "Obviously, I'm disappointed, who wouldn't be? Warner Bros. is a unique and special place and I know it will be in good hands with Kevin at the helm."
The leadership shuffle comes as Warner Bros. Television, the industry's top supplier of TV series, has had 16 pilots ordered by the broadcast networks, including 11 one-hour dramas and five half-hour comedies. Many of the orders, such as "Hostages" for CBS (Ronna Kress) and "The Originals" for the CW (Greg Orson and Lesli Gelles), already have casting directors attached.
Warner Bros. TV declined to comment on whether any of its TV projects could be affected by the change in leadership, but officials at the studio say there is no connection between the two.
A full list of Warner Bros. Television's pilot orders is below.
One-Hour Drama
ABC
"Venice"
CBS
"The Advocates"
"Hostages"
Fox
"Boomerang"
Untitled Bad Robot/J.H. Wyman Project
NBC
"Believe"
"Secret Lives of Husbands and Wives"
The CW
"The Hundred"
"The Originals"
"The Selection"
"The Tomorrow People"
Half-Hour
ABC
"Super Fun Night"
CBS
"Mom"
Fox
"I Suck at Girls"
"To My Assistant"
NBC
"Undateable"