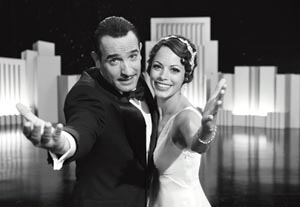 Watch chat and ask questions of the filmmakers and cast of 'The Artist.'

A live Q&A starts tonight -- Friday, January 6th -- at 9 pm/PT (or 12 midnight/ET) on Back Stage. Come back tonight to watch it here.
Hollywood 1927. George Valentin (Jean Dujardin) is a silent movie superstar. The advent of the talkies will sound the death knell for his career and see him fall into oblivion. For young extra Peppy Miller (Berenice Bejo), it seems the sky's the limit - major movie stardom awaits. "The Artist" tells the story of their interlinked destinies.
Come back tonight to watch it here. See you then!
For more information, visit "The Artist" page on Facebook.