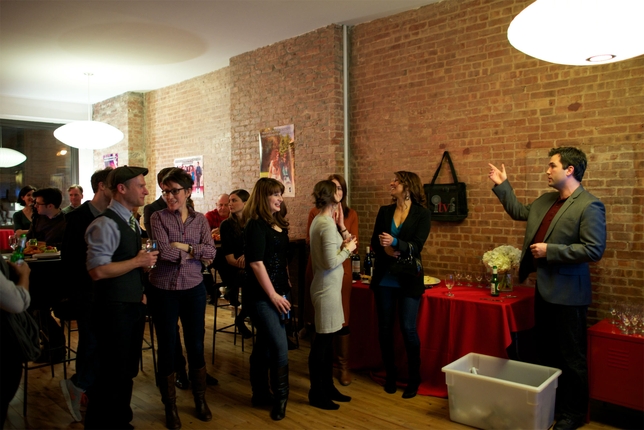 Innovators from a variety of media backgrounds and friends of ITVFest gathered in New York City's Flatiron District to kick off the monthly tradition of the ITVFest Executive Mixer. Held at the Tongal headquarters—a company dedicated to connecting creative types with brands—the intimate gathering was designed to connect like-minded industry professionals and included actors, social media managers, Web series creators, student convention creators, NYU graduate students, teachers, writers, and more.
"ITVFest exists to further the careers of the world's most talented indie TV and Web series artists," said the fest's executive director, Philip Gilpin. "Our Executive Mixers are a fun and simple way for artists to meet the execs, media, agents, guild representatives, producers, etc.—plus we get to party for free with all our friends in the ITVFest community. Can't beat that."
ITVFest friends Joan DeCallibus and Mark Mansfield at Tongal showcased their company with an animated video explaining how they strive to bring great ideas from across the world to the executive desks of brands such as Lego, Eukanuba, Axe, Kool-Aid, and McDonalds. Creatives send over their ideas in 140 character pitches, with the best selected by the brand and made into commercial content. One "Tongaler" based in Malaysia pitched an idea to Lego, which went on to garner more than 1 million hits on YouTube.
"ITVFest works to give artists a way to make a living doing what they love, which is why we've partnered with Tongal," said Gilpin. "It was exciting to have Tongal showcase how easy and fun it can be to get paid being creative—the artists found that extremely useful."
IFP's Made in NY Media Center Community Manager Sabrina Dridje was in attendance, as was "It's Not Okay, Cupid!" co-creator Julia Tokarz, who made a connection with a couple who first met on OKCupid!, the online dating platform that inspired Tokarz and co-creator Stephanie Grassley.
For another Web series creator, attending the mixer and speaking with fellow makers inspired her to finish a series she'd been working on. "Creating that kind of forward momentum in an artist is what we create ITVFest for, so that was inspiring and motivating to us," said Gilpin. "Everyone enjoyed themselves, made new friends—I think someone even found the connection she needed to get into the guild she's been wanting to join—and left with a few new pieces in their career arsenal."
The monthly mixers are for ITVFest members only, so if you're interested in joining, visit www.itvfest.com.